BEFORE & AFTER EXTERIORS PORTFOLIO
FALL IN LOVE WITH YOUR HOME
At The Buckingham Group, we help you create a lifetime of extraordinary "Welcome Home Moments." It starts with our personalized, direct design build experience and ends with a custom built exterior transformation that precisely fits your own unique style.  The exterior of your home can truly reflect you, so why shouldn't it?
BEFORE: Overdue for an Upgrade
A less than impressive porch entry and a deteriorating brick porch floor, coupled with a truncated porch roof, detracted from the overall curb appeal of this 1989 home. A combination of brick and rough cedar beams dated the home and buried its full potential.
AFTER: A Gracious Welcome
A budget friendly design build project replaced all cedar beams with hand tooled Limestone. A new porch roof, with a graceful arch was framed. A stamped and stained concrete porch floor, that matches the sidewalk, replaced the deteriorating brick on the floor of the porch. Two dry stack stone pillars are crowned with a graceful arch. A standing seam copper roof was added over the porch for architectural interest.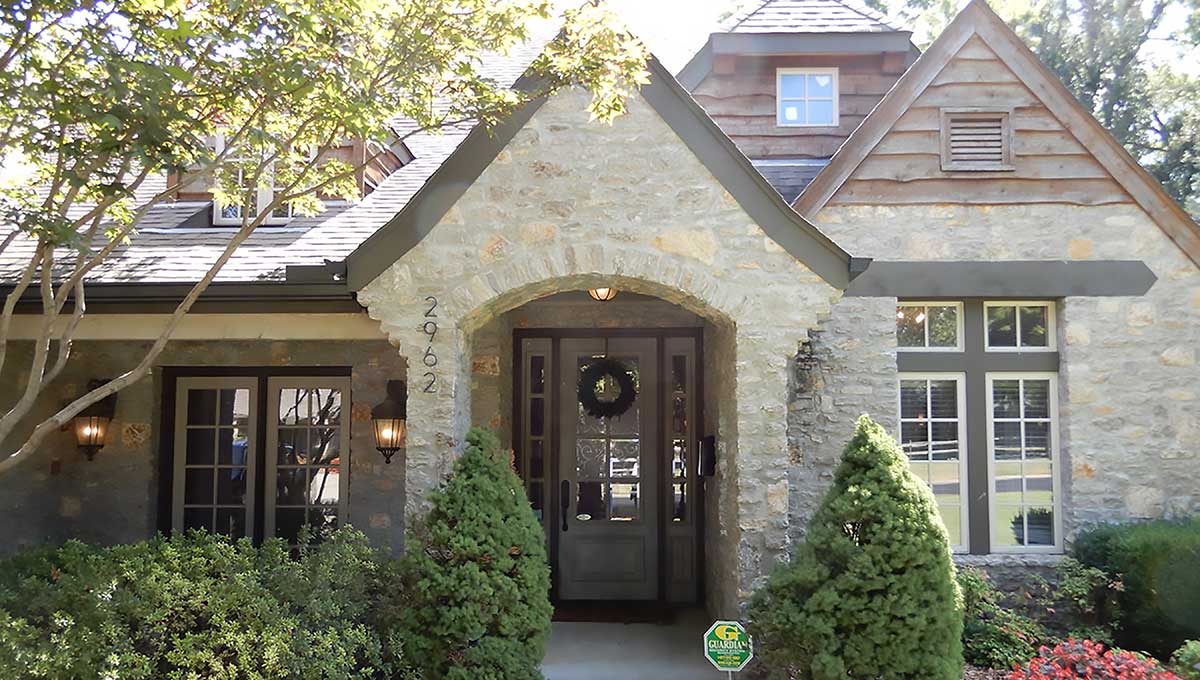 BEFORE: A 2008 era Cottage
Although sparse, the organic edged cedar siding seemed out of place for what was to become a modern high-end residence. Overgrown bushes blocked the finer architectural features of the structure and the exterior trim was inconsistent both in style and color. It appeared that bad decisions, over the years, had diminished the home's curb appeal.
AFTER: Curb Appeal Plus
When you work with a team of seasoned remodeling professionals, the results can be spectacular. This marriage between landscape and structure is living proof. Just a wonderful play of shapes, textures and colors all framed in an impeccable landscape. True professionals always bring their "A" game and this is a pleasing example of just that.
BEFORE: Just Another Backyard
With simple wicker seating for three on open concrete, we viewed this as a blank canvas of sorts. It gets better. A lot better…
AFTER: Redefining "Time at Home"
The "swooped" extended roof covers a common area for all seasons. Safe to say "Time at home isn't what it used to be." The lovely pool is heated and features an electric powered cover. Safe and clean.
BEFORE: Hidden Potential
Aluminum windows surrounded by rough cedar framing were hidden by overgrown trees and shrubs on the front of this home. A less than impressive deteriorating front door complete with peeling paint provided a creaky welcome to family and friends.
Extraordinary Estate
A new cast stone porch, two patios and cast stone trim were designed into the new face of the home. More than 500,000 lbs. of custom cast stone by Stone Legends were meticulously installed. Landscaping was added as construction was completed.
BEFORE: Patchwork Porch
The rear of this home was dominated by a leaking flat roof porch and a bank of aluminum framed windows. Direct access to the rear yard was limited to a circuitous route through the kitchen. The floor of the porch was composed of cracked concrete and a random layout of brick pavers.
AFTER: Grandeur with a Splash
A new hip roof was designed and installed over the porch to allow additional light into the interior. Custom cast stone pillars and crown molding were fabricated by Stone Legends of Dallas Texas. Copper guttering and a new concrete tile roof were added to complete the remodel of the porch.
BEFORE: A Bright Future Ahead
The outdoor kitchen consisted of a Propane fired mobile gas grill which was stored under a low-lying flat leaking roof. It shared space with the pool maintenance equipment in a corner of the rear yard overlooking the in-ground pool. Rarely used, it was more of an eyesore than an appliance that enhanced the entertainment experience.
AFTER: Ready for Entertaining
A game room and covered entertainment patio were designed & built as the final stage of the remodel of this 10,000 sf home. Housed under a double French Vault ceiling the outdoor kitchen features DCS outdoor appliances and maintenance free, total stainless-steel cabinets by Danver Cabinets. Pella Architectural Series doors anchor one end of the patio, while cast stone columns from Stone Legends integrate this area into the overall architecture of the home.
BEFORE: The Gateway to Blah
A massive composition roof, a random collection of different size windows outfitted with molded plastic shutters removed any sense of architectural interest in this home. Large brick columns supported a tiny hip roof over the front porch. This roof, in turn, covered the cave like entrance to the home. Overall, this home was totally lacking in curb appeal.
AFTER: Symmetrical Accents
A new porch with a graceful brick arch now provides a welcoming feeling this home. Two dormers were added to the massive slope of the roof to provide architectural interest. A new front entry door with a glazed circle top arch were incorporated into the design adding both requested privacy and interior lighting. The brick was painted after which new Windsor windows and custom wood shutters were added to the entire home.
BEFORE: East View for Consideration
A massive composition roof, a random collection of different size windows outfitted with molded plastic shutters removed any sense of architectural interest in this home. Large brick columns supported a tiny hip roof over the front porch. This roof, in turn, covered the cave like entrance to the home. Overall, this home was totally lacking in curb appeal.
AFTER: Corner Lot Curb Appeal
Right at home in this lovely shaded South Tulsa neighborhood. Upscale neighborhood? Yes, and architecturally diverse. This Buckingham Group remodeled home is a "stand out" among "stand outs" in this peaceful community.
BEFORE: Utilitarian
Here we found an expressionless east elevation with that unmistakable 80's vibe. Nothing terribly wrong or right, just potential to be great. At the Buckingham Group, "abounding potential" has fueled our fire for more than forty years.
AFTER: The Large Canvas Completed
Here's the payoff. We love to pack up and hand over the keys to a home like this one. As always, nothing is more important to us than happy clients.
BEFORE: 1980's Style and Structure
From the top, a disproportioned, expansive roof with triangular shaped protrusions seemed to visually weigh downward on the living areas. To be sure, this home was in need of design continuity here and throughout. We met the challenges head on…
AFTER: South Tulsa Splendor
A transformation like this one takes a shared vision between us and our clients along with absolute trust, also going both ways. Needless today, this project is one of favorites
BEFORE: Undeniably Tudor
This 1930 vintage Traditional Tudor home occupies a prominent corner lot in Tulsa's Maple Ridge neighborhood. Following the remodel of the kitchen and basement we were asked to expand the master bedroom suite on the second floor. The walkout deck over the sunroom provided the airspace and opportunity we were looking for.
AFTER: The Perfect Transformation
A new home office, master bathroom and master closet were added to the second story over the sunroom creating an expansive master suite. Three quarries were contacted and became sources for the multi-colored slate roof. As a result, the new and existing roofs are perfect matches. The unique stucco appearance of the second level was duplicated by our stucco subcontractor, who "punched" the fresh stucco with rag wrapped hands.
BEFORE: Easily Overlooked
This home was searching for curb appeal. Its exterior was covered with a combination of composite & vinyl siding. An ill-fitting stamped metal garage door tilted to the west on the crumbling concrete driveway. The front stairs and porch were in a state of disrepair. A flimsy ornamental iron post supported the porch roof. The front door was constructed of molded plastic and the original concrete block stem wall peaked out from behind the shrubs.
AFTER: Colorful Cottage
Simulated cedar shakes replaced the existing jumbled assembly of siding. A new brick paver covered porch and matching stairs were built. For safety, the stairs and porch are electrically heated by a SunTouch outdoor heating system. Dry stacked stone was installed over the concrete blocks, a walnut entry door and overhead garage door overlay were installed, A new driveway outlined with brick pavers was poured with a spot for guest parking.
BEFORE: Neglected and Unused
The concrete patio had been built prior to the area being designated as a flood plain. It consisted of a raised half-moon shaped concrete surface surrounded by a waste high brick wall. Covering the patio was a weather-beaten aluminum patio cover that not only leaked, but also was architecturally incompatible with the existing home. Complicating the issue was the fact that the local brick manufacturer had closed its doors.
AFTER: Invitation to Relaxation
We salvaged existing brick and then lowered the patio to ground level. This created a larger storage area for potential flood waters making the flood plain officials happy. A factory in Indiana, replicated the brick. Using a combination of new & old brick we built columns and walls that perfectly match the existing home. Danver stainless steel cabinets, KitchenAid appliances, a Delta faucet and a granite countertop completed the outdoor kitchen.
BEFORE: Unflattering Façade
Deteriorating vinyl siding, molded plastic shutters and single pane glass windows were all targets for replacement on this whole home remodel. Rotting Masonite siding and a broken wooden overhead garage door were removed and replaced on the free-standing garage.
AFTER: Colonial Revival
Custom cedar shutters by Timberlane Wood Crafters surround the Windsor divided light replacement windows on this whole home remodel. Fixed Rogue Valley true divided light French doors finish out two walls of the sunroom. Crane-Board foam backed vinyl siding provides added insulation and unifies the front, sides, and rear of the home.
BEFORE: Room for More
The deteriorating redwood deck, the poorly constructed family room addition, the rear windows, and the siding on both the home and garage were removed during the demolition phase of the project. This provided a clean slate for a new addition that would tie the free-standing garage into the home.
Inviting Entertainment Area
This creative addition integrated the former free-standing garage into the house. The added space allowed us to create a new kitchen with walk in pantry and a new powder room and family room.
Share your vision with us.
The experts at The Buckingham Group are here to create a home that's as extraordinary as you are.
Any project, any style, any dream, bring your inspiration to The Buckingham Group.
Schedule your personalized complimentary appointment today.
The Buckingham Group  |  4727 S. Memorial Drive  |   Tulsa, OK 74145   |   918-624-2666