MEDIA & GAME ROOMS PORTFOLIO
THAT'S ENTERTAINMENT PLUS…
The complete media room for your home may include movie projection, traditional games, a library, home office or theater seating in any combination. Elegant design will make it your own. 
Best Seats in the House Graystone 2009
Custom tiered seating with theater step lights accenting the way to the elevated platform are some of the features that make this attic space conversion a special entertainment environment. A Lutron Radio RA home automation system triggers a sequence of events leading to "show time" at the touch of one button. All lighting and operational controls in the media room are integrated into a whole house smart system.
A Sound Solution Hudson Meadows 2005
This custom home theater has sound traps in both corners and features extensive acoustical treatment in the walls, ceiling and floor. These have been engineered to completely isolate it from the surrounding living space. The theater includes custom speakers, a Lutron Radio RA total home control system, tiered seating, custom carpeting, LED Lighting, and an acoustically transparent screen.
Finely Tuned The Crescent 2000
A self-contained entertainment center feeds surround sound in both the entertainment room and throughout the house. This system is integrated with a Lutron Radio RA lighting control that allows the owner to set scenes depending on the activity that is to take place in the home.
Stand By for Music Hudson Meadows 2017
A restored Wurlitzer Jukebox provides music to this 600 sq. ft. game room addition. Pella Architectural Windows and Doors coupled with a geothermal HVAC system creates the perfect temperature control for both video games, billiards, and shuffleboard.
Call Your Shot Hudson Meadows 2017
A custom-built billiards table provides one of the many sources of entertainment in this 600 sq. ft. game room addition. A 6-inch white oak floor with walnut pegs complements the knotty alder trim and beamed ceiling and allows for easy clean up.
South Side Shuffle Hudson Meadows 2017
A shuffleboard playing surface sits in front of the stairway to a guest bedroom on the second level. A full bath, kitchenette and living room complete the guest quarters which were added as an integral part of the game room addition.
Entertainment Essentials Cedar Crest 1992
This former three car garage was converted into an elaborate entertainment center. An audio/video wall consists of a dropdown screen that covers the display cabinet. An extensive array of audio/video equipment is tucked into the custom high-gloss acrylic enamel finished cabinets. LeRoy Neiman original paintings set in the background of the Baltusrol Golf Course sit opposite a wet bar.
Tuned to Perfection Two Tree Island 1999
An elaborate home theater featuring an Owens Corning Acoustimac home theater surround installation provides perfectly balanced sound throughout this basement space conversion. Acoustically transparent fabric covers a series of reflective and absorbing sound panels that were computer designed by Owens Corning. A Lutron home entertainment system controls lighting and the complete audio/video installation.
Waiting to Play Two Tree Island 1999
A ¾-inch cantilevered glass shelf projects from the wall to provide support for several components of the audio/video system in this entertainment center. Custom cabinets with a DuPont automotive lacquer finish provide storage for both additional audio/video equipment and the owners collection of CDs and classic vinyl records.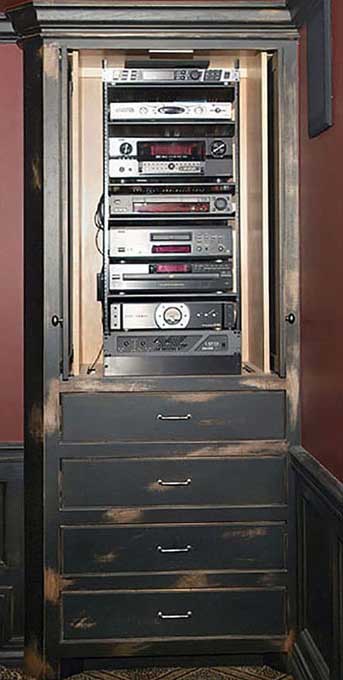 Hiding the Details Hudson Meadows 2005
This custom Woodstock Cabinets equipment rack was designed to accommodate the extensive array of home theater controls. For convenience it is strategically placed in the rear of the theater. The four drawers are designed to house specific media and can hold over 800 Blu-Ray discs. The distressed finish was created on the job site by Mike Loper Painting of Tulsa, Oklahoma.
Just Right for Red and White Graystone 2009
A wet bar complete with wine refrigerator allows the owner to serve guests in his media room from an extensive wine collection. Granite countertops and a faux finish on the wall complement the overall feeling in this former attic space. A Lutron Radio RA home automation system controls the entire room with the touch of one button.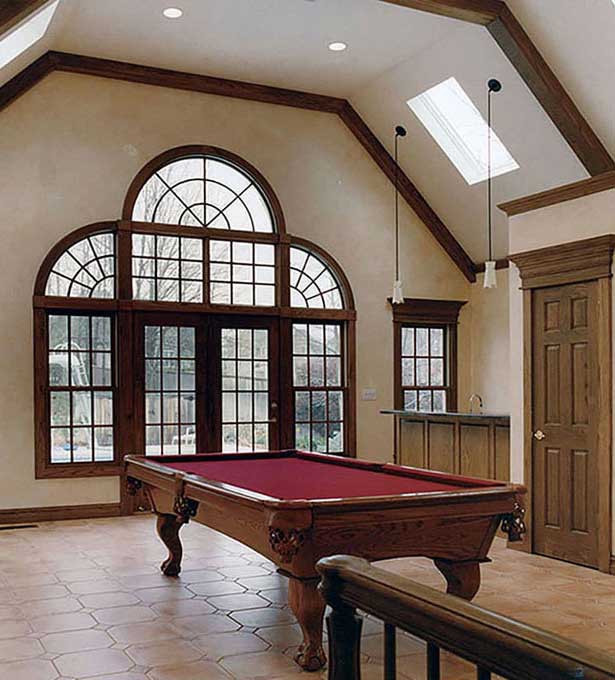 The Billiards Room Estates of Graystone 2000
This user-friendly living space bridges the gap between the existing home and in-ground pool. The addition includes a wet bar, a sauna, steam shower, separate bath and changing room. A tile floor was installed to minimize the inherent problems of wet bathing suits dripping on walking surfaces. The open feeling for the room was created with a cathedral ceiling that included six Velux skylights in the roof line and a set of six windows on the west side.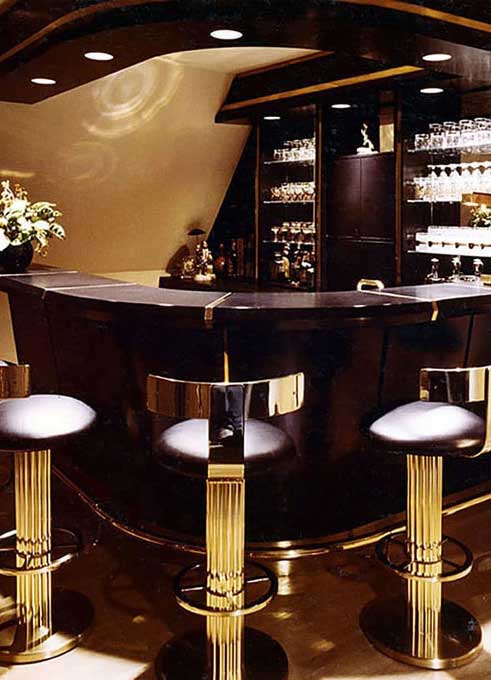 Bar Talk South Tulsa 1985
This custom bar was fabricated from a combination of solid black ebony with inlaid brass accents. A wine refrigerator, elaborate liquor storage, and a spacious serving counter coupled with a hidden flat screen TV provide the environment for the owner to entertain his guests. The view from the bar through a 20' wall of windows follows the winding driveway from the home to the street.
Sumptuous Surroundings Rockhurst 2014
A Lutron Radio RA home automation system triggers a sequence of events leading to "show time" at the touch of one button.
Theater Experience Rockhurst 2014
Custom tiered seating with theater step lights accenting the way to the elevated platform are some of the features that make this room a special entertainment environment.
Share your vision with us.
The experts at The Buckingham Group are here to help create a home that's as extraordinary as you are.
Any project, any style, any dream, bring your inspiration to The Buckingham Group.
Schedule your personalized complementary appointment today.