10 Must-Haves for Aging-in-Place
by Ed Kaplan
As the years go by, the Tulsa, OK, home that you've loved and lived in may no longer be meeting your needs. By the time you finish reading this article, we will all be a few minutes older. Knowing this, coupled with the knowledge that you want to stay in your home for a long time is great. However, being proactive and designing a plan for the future is something that too many of us delay. To help you prepare for the future there are specific lifestyle choices that should be made to help you adapt your home to a series of changing needs that will inevitably take place over a period of time. At The Buckingham Group we work with our clients to first assess their requirements for the present and their goals for the future. By undertaking advanced planning, we will create an environment that will provide you with the peace of mind that you need to comfortably stay in your home for many years to come.
Listed below are 10 remodeling concepts for aging-in-place. They are only a small segment of all of the different items that we can incorporate into a plan for your future aging in place.
1. Accessible Sinks– the vanity you've had for years has served its purpose, but now it may be time to have a mobility limited -accessible sink at just the right height and close to the front of the countertop. Motion-activated faucets and soap dispensers add a helpful and germ-fighting quality to the sink. While a less expensive but still effective approach is single lever faucets where one device can control both the volume and temperature of the water.
2. Curb-less and Door-less Showers– a curb-less shower entrance is a must for safe movements in and out of the shower. With no barrier from the bathroom floor to the tile floor of the shower, you can wheel right in and/or walk in if you have limited mobility. To supplement the curb-less entry, a seat should be included in the shower along with grab bars mounted in key areas. Another important element to incorporate in your shower is a handheld shower with easily accessible controls that are adjacent to the shower seat.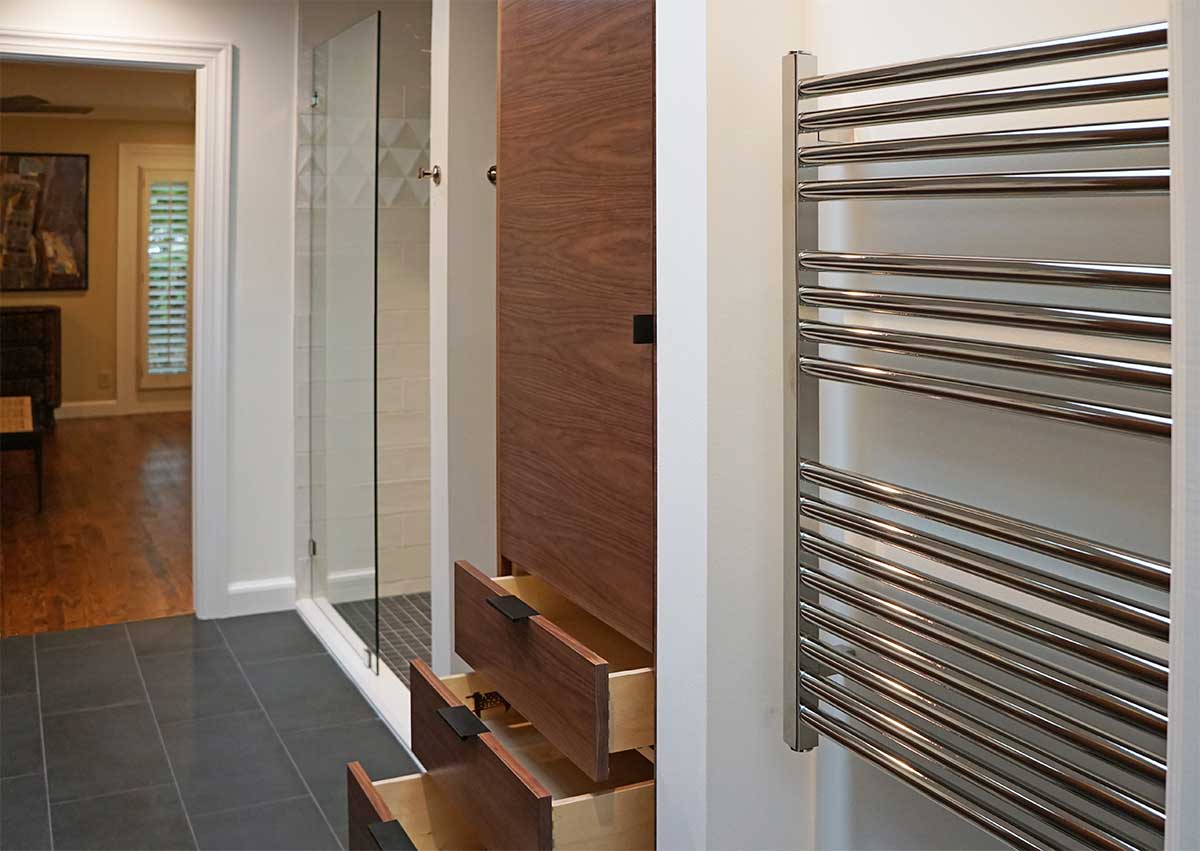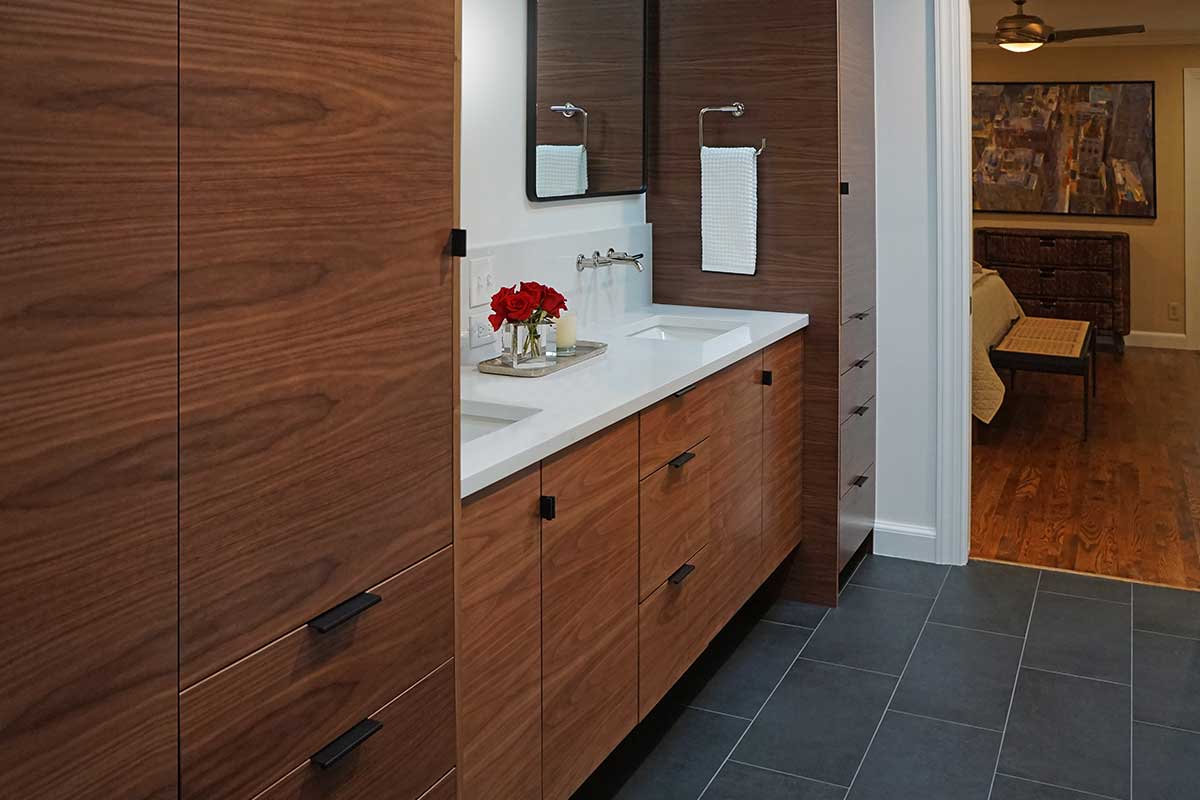 3. Handrails– aging-in-place requires a studied approach to handrails. Bathrooms need to be fitted with grab bars. There are many different kinds of grab bars that can fit almost any space to make it safer. Stairs need adequate handrails. Whatever handrails are needed, we can install them properly with the needed backing hidden in the walls for secure placement.
4. Doors– to accommodate mobility equipment, some doors may need to be widened. Also, traditional doors can cause obstacles for those with mobility issues. An easy answer to this is pocket doors or sliding doors that are easier to handle. Automatic doors are another possibility for easy access. And while on the subject of doors, replace door knobs with levers to accommodate arthritic conditions that make grasping of knobs painful and in many cases impossible.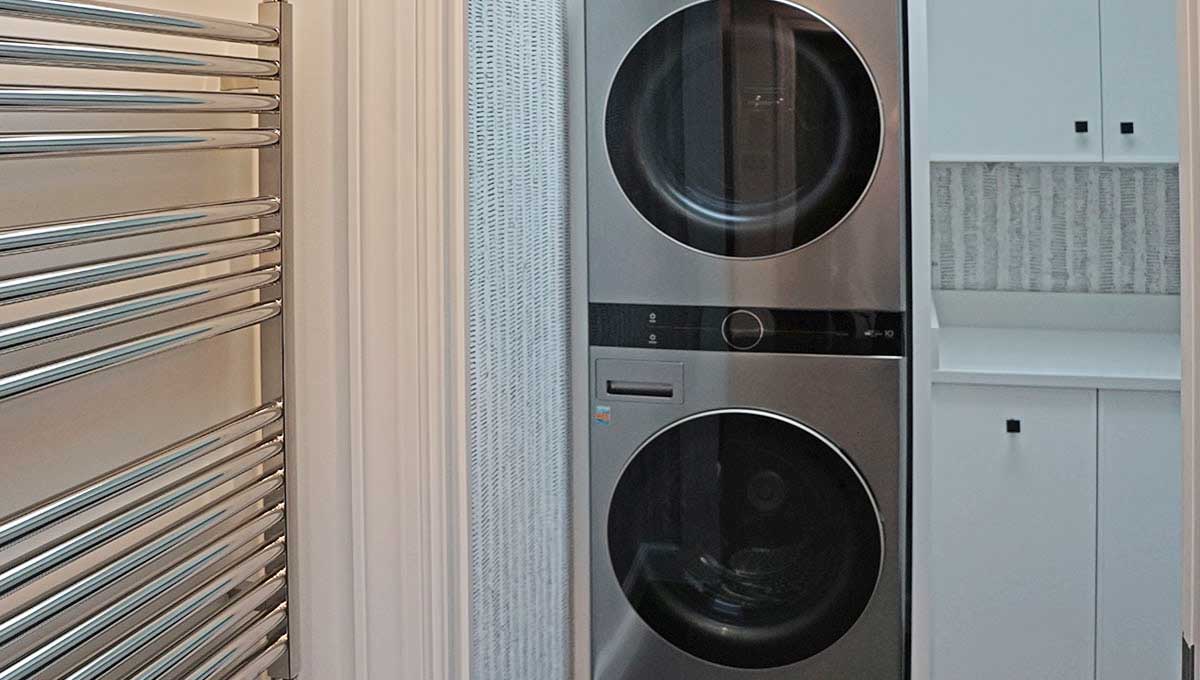 5. Lifts– Going up and down stairs can be simplified with the installation of a lift or an elevator. Lifts may also be needed by the bedside for caregiving or in the garage for loading a wheelchair.
6. Smart Appliances– We recently attended Builders Week in Orlando Florida where we viewed a plethora of new appliances. The evolution of these staples of the kitchen has developed to the point where they can be controlled electronically, remotely and with more functions that we could have imagined, even a couple of years ago. Although the intent of the electronic controls is to make life easier, they can make life safer by making you aware that you have left something on and/or open by accident.
7. Security– wiring the house for an intercom, voice-activated security system and emergency response system are all potential safety devices to add to your home.
8. Raised Commode– traditional toilets will probably be too low for aging needs. Swapping out a regular toilet for a taller, handicap-accessible toilet is a must have. We can combine the toilet with well-placed grab bars for added safety.
9. Walk-in Tub– If a walk-in shower is not practical there has been a recent explosion of walk-in tub products on the market. A broad spectrum of choices are available for the right bathtub that will meet your changing needs ranging from a simple soaking tub to a tub outfitted with both invigorating air bubbles to the more traditional whirl pool bath.
10. Lighting– technology can give you the option of voice-activated or motion-activated lights for fast visibility. Also, now might be the time to evaluate the lighting needed for stairway safety, hallways, kitchen food prep areas and more. Get a free consultation today!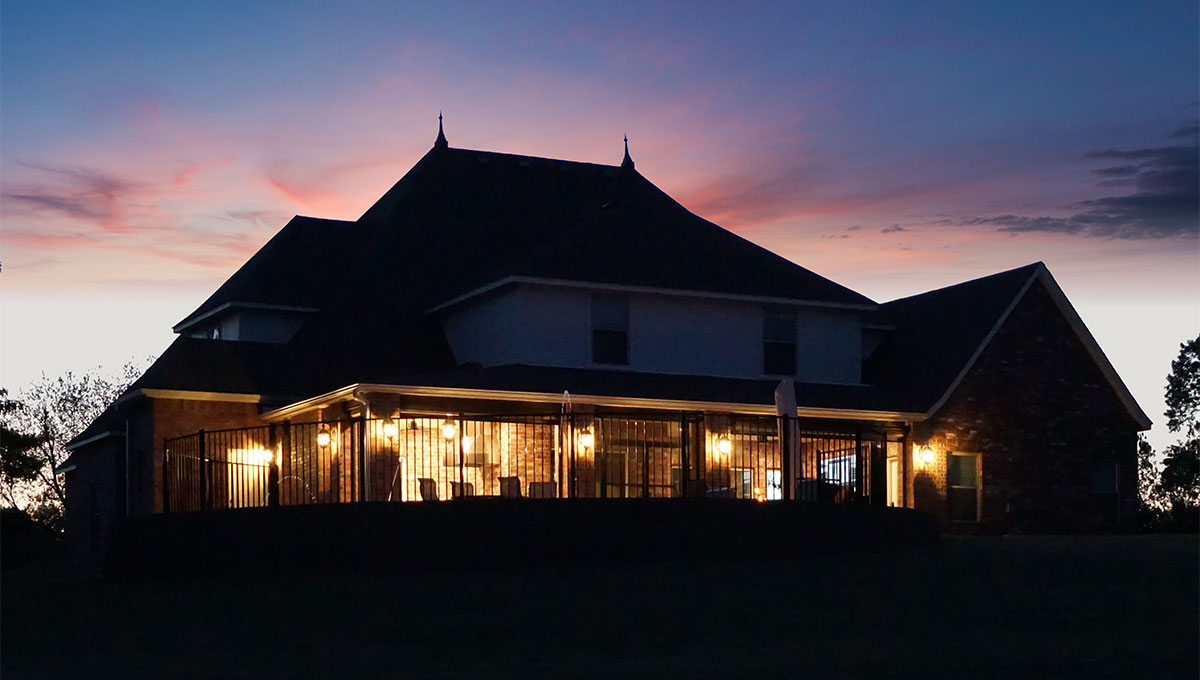 Get a free consultation today!
To discuss the renovations your house requires to meet your aging-in-place needs, give us a call today at (918) 624-2666 or email us to schedule a free consultation. We have the expertise to remodel your home to be comfortable, safe and easily accessible during your golden years.
Share your vision with us.
The experts at The Buckingham Group are here to create a home that's as extraordinary as you are.
Any project, any style, any dream, bring your inspiration to The Buckingham Group.
Schedule your personalized complimentary appointment today.
The Buckingham Group  |  4727 S. Memorial Drive  |   Tulsa, OK 74145   |   918-624-2666