20 Kitchen Remodel Ideas to Simply Inspire
by Ed Kaplan
Looking for inspiration for your Tulsa, OK, existing kitchen's renovation? The Buckingham Group can build in the modern conveniences, dovetailed with the hottest designs, to bring you an amazing, fresh kitchen space to enjoy for years to come. Our design-build team can bring you a kitchen remodel second to none.
Here are some creative ideas to get you started:
1. Casual Seating – Whether it's an extension of the kitchen island or cabinets, or a bumped-out breakfast nook, casual seating gives you another opportunity to add style with interesting stools or chairs and to expand the function of your kitchen.
2. Kitchen Islands – Increase the efficiency and workspace of your kitchen by adding an island customized for the way you cook. Bonus: extra storage space below the island.
3. Cottage Accents – Having a couple open shelves to stack favorite dishes or to feature some antique acquisitions is one easy way to add a cottage-like appeal to your kitchen. Rustic lighting and an antique appliance are other options.
4. Textures – Rough-hewn reclaimed wood, knotted textiles and knobby and custom ceramics are all ways to add interest, color and texture to your kitchen.
5. Sinks – Farmhouse sinks are taking area kitchens by storm. Apron sinks made of traditional white, or a more exotic sandstone, and trimmed with gooseneck pull-down faucets are both attractive and practical.
6. Mixed Materials – Consider mixing materials that you wouldn't normally see paired, such as aged barn wood and zinc or stainless steel and soapstone. This gives a nod to the house's heritage while adding a splash of industrial age.
7. Second Sink – Once considered a luxury, a second sink is now in popular demand. Use it for a hand-washing station, veggie washing, gardening, or espresso bar clean-up.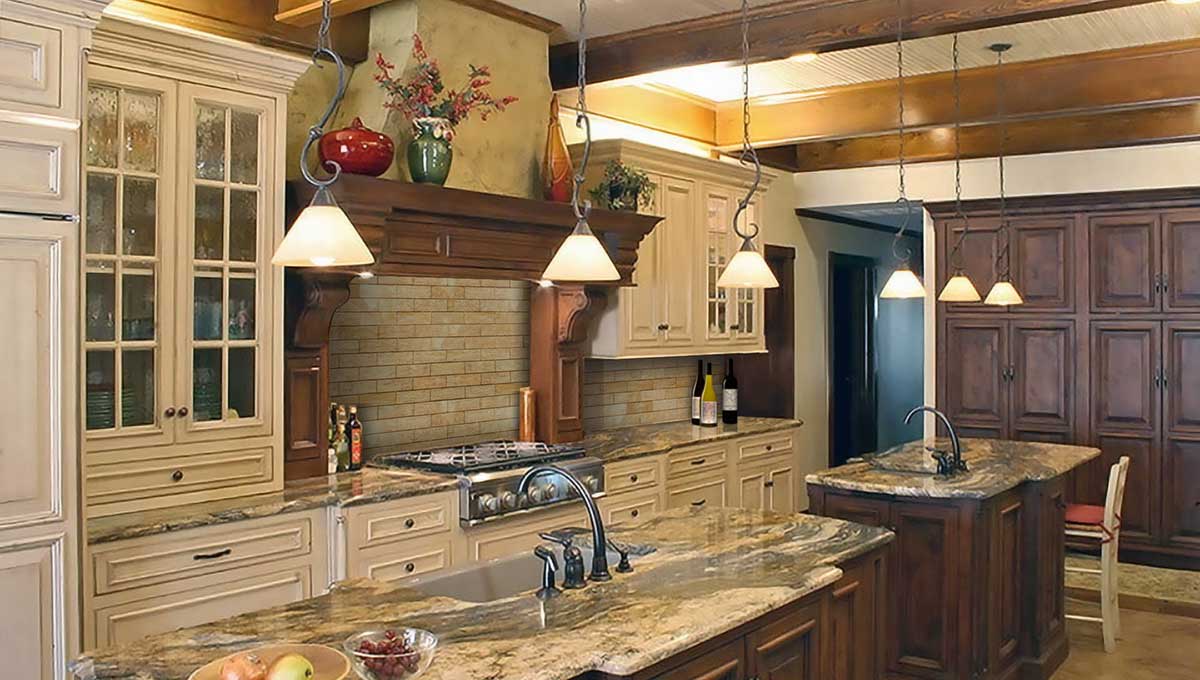 8. Retro – Adding a retro palette by using smaller-footprint appliances designed to look antique or by using retro décor can make an interesting design that hails to the good ol' days in your new kitchen remodel.
9. Range Centerpiece – Making a whole-kitchen statement, starting with the range, can be a bold move that really works if your stove is a special color, size, style or antique.
10. Light and Lively – Think "bright" when you consider the design and look of your new kitchen. Making use of the natural light, pinpoint areas that need task lighting or dramatic lighting and use light colors to keep things moving in your new space.
11. Standout Strengths – Choose your favorite part of the kitchen, such as Grandma's dishes or Mom's hutch, and decorate around them. Use open shelves or glass cabinet doors to accentuate your assets.
12. Creative Lighting – One of the more interesting ways to add style and versatility is through your choice of lights. Some designers are experimenting with table lamps in the kitchen for an added whimsy while others have complimented client's art with art lamps that serve a two-fold purpose of illuminating the counter workspace underneath. Pendant lamps or discreet tract lighting are also solid creative lighting choices.
13. Neutrals – A singular color scheme of neutrals such as white cabinets, white subway tile backsplash and white countertops is a popular choice allowing aspiring designers to add their own charm through a variety of décor. Mix and match and change it frequently to keep things fun, whimsical and very personalized.
14. Storage Solutions – A kitchen remodel is the perfect time to address your unique storage needs. A smooth baking sheet slide-out, a clever corner cupboard solution, a secret spice rack, or a custom appliance shelf are all solutions waiting for you.
15. Windows – Kitchen remodels are choosing little-to-no treatments for existing windows. A bank of bright white, natural windows can be an amazing part of your kitchen. No windows? No problem. Let us find a way to include windows or a skylight into your remodel design.
16. Technology – Keep up with the advancements with a discreet charging port station, a dishwasher that uses less water and electricity, and a smart refrigerator.
17. Countertops – This is a great way to define your kitchen space. A myriad of options are available including stainless steel, zinc, granite, soapstone, poured concrete or even polished hardwood.
18. Contrast – make use of the natural power of light vs. dark by using dark wood on the floors to contrast white cabinets and neutral walls. Or change it up with a stunning dark cabinet design drawn out with a bright white floor. Use a beloved, saturated color on both the cabinets and the walls and keep the countertops, floors and accompaniments very light.
19. Backsplash – Another area of creative expression is the wall behind the stove and countertop. Choose a mosaic, plain tile design, marble inset bead-board or even a fire-back for a beautiful backsplash.
20. Cabinets – The first thing that many people notice in the kitchen is the cabinets. Use this opportunity to show your style through a distressed, chic, executive, shabby, country, industrial, or neo-modern design.
Get a free consultation today!
To launch the creative process for your new kitchen renovation, give us a call today at (918) 624-2666 or email us to schedule a free consultation. Our certified design planner will work with your footprint to find the right solutions for your new kitchen remodel. Soon, you can be enjoying the updated style, efficiencies and beauty of your new kitchen.
Share your vision with us.
The experts at The Buckingham Group are here to create a home that's as extraordinary as you are.
Any project, any style, any dream, bring your inspiration to The Buckingham Group.
Schedule your personalized complimentary appointment today.
The Buckingham Group  |  4727 S. Memorial Drive  |   Tulsa, OK 74145   |   918-624-2666