Ten Kitchen Renovation Mistakes to Avoid
A custom fabricated Burmese Teak Butcher Block countertop was incorporated for this traditional kitchen.
by Ed Kaplan
The kitchen is often the heart of the home. It's where the kids get their homework done, where you enjoy a glass of wine with a good friend, and where everyone gathers for meals. It should be a space that's highly functional, but also beautiful and fitting to your personality. If a kitchen remodel is in the works for your home, consider these common mistakes homeowners make when remodeling:
1. Setting an Unrealistic Budget
Your kitchen remodel can be as complex or simplistic as you like, but your budget needs to match. Before getting any project started, work with a contractor to get ideas on what you can expect to pay. The cost of remodeling a kitchen can range from $30,000 up to $200,000 or more depending on materials, scale, and features.
Appearances are important – you want a kitchen that's beautiful and stylish. It also needs to be functional. Consider how you use this space now and what your goals are. Do you want a place to sit down and chat with guests? Perhaps you love to cook. Putting more money into storage or better appliances may make more sense.
Professional grade Wolf appliances and range hood provide an outstanding cooking experience in this traditional kitchen.
2. Being Too Trendy
Having a trendy kitchen can be fantastic until you find yourself not liking the look of it in a few years. You can incorporate trendy features from colors to materials. Yet, make sure they are elements you truly love. Choose what style you like rather than what the latest trend is, and you're sure to benefit from the project.
A 6-foot Galley Sink with twin Delta touch-activated faucets creates a central work area for this transitional kitchen.
4. Selecting Your Appliances Last
Work with your remodeler to layout the space in a way that works for your needs. Then, go shopping. The design for your kitchen should be based on the size and functional features of the appliances. How far does the refrigerator stick out? What amount of hood space can you provide for the stove? Your remodeling team can help you tweak your plans to fit your appliances.
The layout of this transitional kitchen accommodates a selection of high-end Monogram appliances.
5. Not Considering Kitchen Work Flow
When working on designing your kitchen, ensure workflow is a key thought. That is, you need space next to the stove, easy access to the sink, and the refrigerator within reach. Work with your remodeler to get the layout right.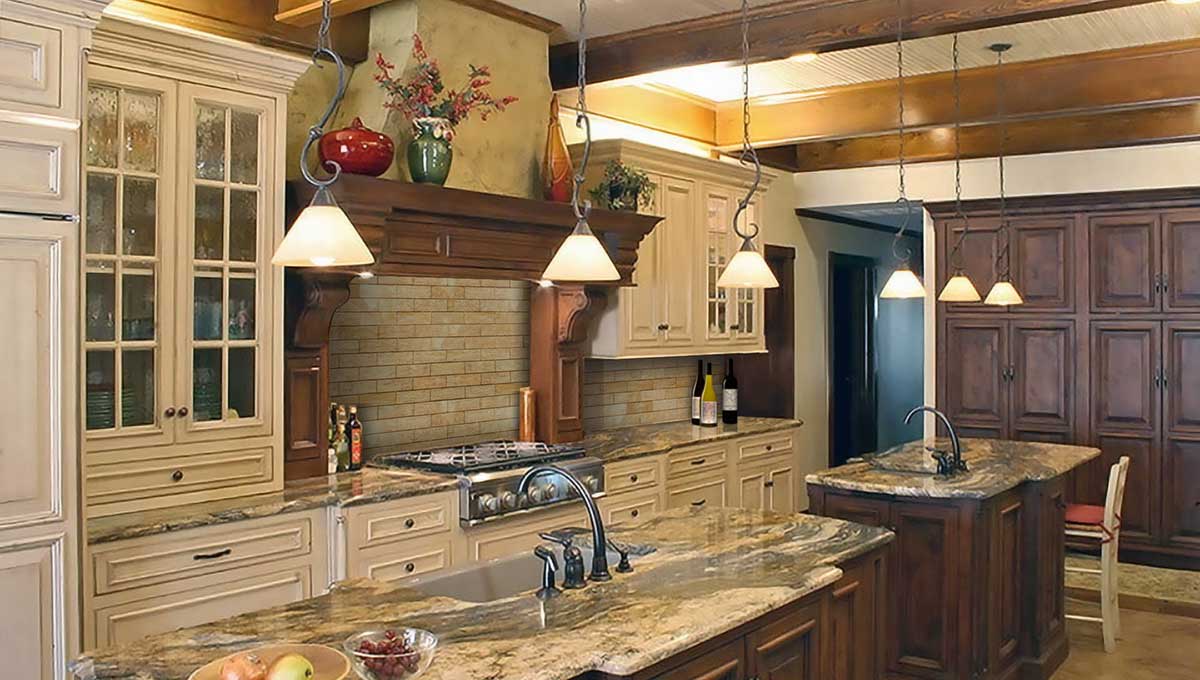 Twin islands with unique granite countertops provide both workspace and excellent traffic flow in this traditional kitchen.
6. Not Updating Your Utilities
During your renovation, ensure licensed plumbers and electricians inspect your utilities to ensure they are safe, modern, and properly sized for your needs. You don't want to have to make changes to your newly renovated home later.
7. Ignoring Kitchen Lighting
Your home improvement project should also improve the lighting in your kitchen, especially over workspaces. Centrally located lights are one option but don't overlook the use of pendants and can lights, as well.
Layered LED lighting by Halo and GM Lighting provides task, accent and general lighting in this transitional kitchen.
8. Buying Cheap Materials
Improvement of your kitchen doesn't have to mean that you use only expensive materials. Independent of cost, they should be of excellent quality. The best remodelers are going to use high quality, well-priced materials to help create your look. You don't want to cut corners here – if you do, it could end up reducing the value of the kitchen overall or cause problems with repairs later.
9. Buying on Impulse
From appliances to light fixtures, make sure you are buying with purpose. It's a good idea to consider any materials, appliances, or fixtures with care to ensure they fit the design you have. You also want to work with remodelers who can help you make the best decisions for your space.
Contemporary Brazilian Mahogany cabinets, twin dishwashers, and large windows give this kitchen a timeless design.
10. Having Unrealistic Expectations
Most importantly, know that your renovation can be anything you want it to be within realistic expectations. A renovated house still needs to be functional, fit your budget, and be safe (and up to code).
Ready to Learn More About Kitchen Remodeling?
Let The Buckingham Group, in Tulsa, Oklahoma, provide you with inspiration and design of your new kitchen space. Contact us today for a consultation.
Share your vision with us.
The experts at The Buckingham Group are here to create a home that's as extraordinary as you are.
Any project, any style, any dream, bring your inspiration to The Buckingham Group.
Schedule your personalized complimentary appointment today.
The Buckingham Group  |  4727 S. Memorial Drive  |   Tulsa, OK 74145   |   918-624-2666