3 Concepts That Will Lead You to the Perfect Kitchen Island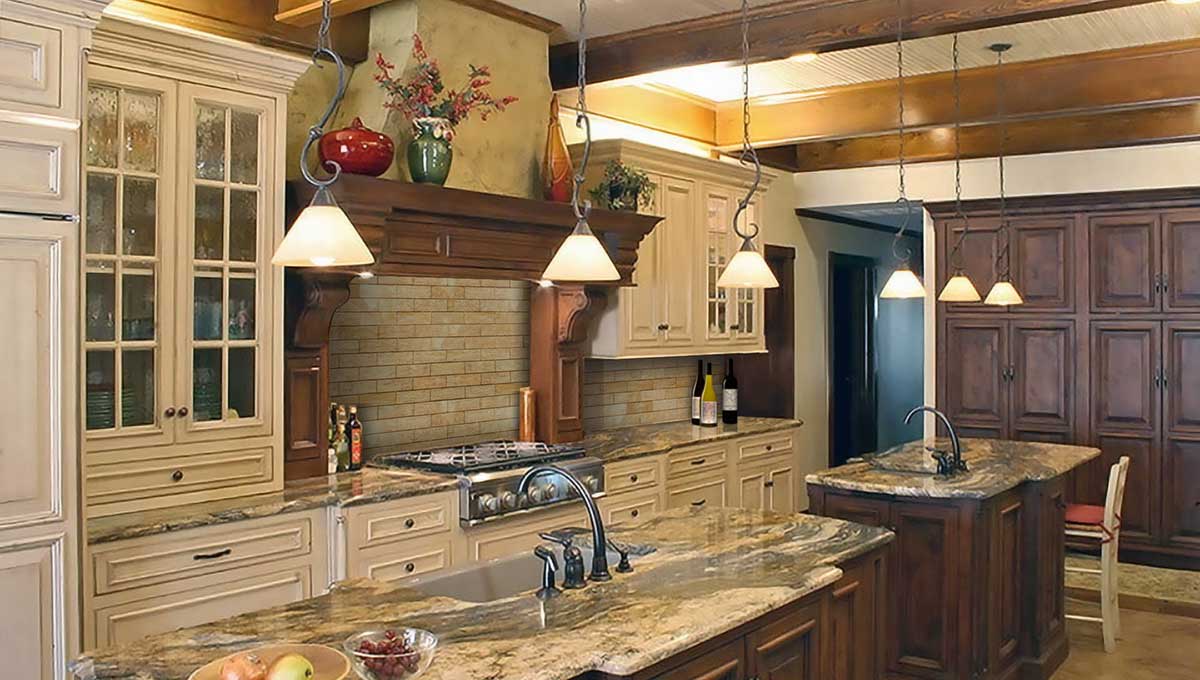 by Ed Kaplan
Evolution of the Kitchen Island
Historically the kitchen table was the center of all kitchen activities. Growing up on a farm we not only ate at the table, but as a family used it as the place to prepare canned goods for the cold New England winters. My father read the morning and evening paper at the kitchen table. My mother folded clothes on the kitchen table and I did my homework on the kitchen table.
Over time, the kitchen table's work horse space has evolved into the much sought after and popular kitchen island. To optimize the functionality of the island, the design should integrate it into the individual design of the kitchen allowing the island to function not only as the main preparation area but for storage and seating as well. Where space allows, the island can be used to connect the three main areas of the kitchen, the storage station, the cooking station and the cleanup station. The Buckingham Group has the award-winning in-house design capability to create the customized island that your Tulsa, OK, home needs.
Kitchen Island Components and Accessories
In the same way jewelry enhances a women's wardrobe, the unique elements of a kitchen island can help flush out a design enhancing its usefulness and function. A well-designed kitchen island can provide an enlarged surface for greater efficiency in meal preparation. The addition of cabinets below the island also gives you extra storage space. To maximize storage space, we will include designs that optimize the use of the end of the island for items such as cooking oils and spices. A strategically placed vegetable sink will enhance the islands function as prep space. Finally, a customized kitchen island can include extra seating for casual eating and conversation.
What Kind of Kitchen Island Do You Want?
Here are 3 questions to ponder. As you develop the answers they will define the type of island that will prove the perfect fit for your kitchen and family.
1. What's the function?
Before you choose the shape or even think about the style of a kitchen island, consider how you will use it. Is it going to be heavily used for food prep? Is there going to be more than one cook in the kitchen? Do you want casual seating options at the island? Does it need to be on wheels, so you can move it out of the way? Do you need to put one or more appliances in the island to make your kitchen design more efficient?
By defining the function that you want and keeping in mind the space you have to work with, you can start closing in on the parameters of your ideal customized island. If you need a large food prep area, you may need to include a small veggie washing sink. If you have lots of people helping you, you will need much more counter space to give everyone a station. If you want to serve food casually or be able to talk with your family and friends, you'll need the extra seating space with an overlapping countertop. If it needs to be mobile, then that will affect the size and the underneath storage design.
2. What shape do I want?
The 5 basic shapes for kitchen islands are detailed below. However, where space allows, eye catching sets of islands can be created for architectural interest and added functionality. Beyond the individual shapes there is no limit to what our design team can create to meet the needs of your specific home. The shape you choose will depend on the floor space you have, the function that you need and the efficiency of the flow of your kitchen. Our designer can discuss the pros and cons of each shape with you, but here's a brief look at them:
L-Shape – has a short side and a long side, with lots of countertop and additional cabinet storage underneath. Can be two different heights for added interest and function.
Block – clean lines, underneath storage, good for an extra surface to set things or prep work. Can be designed to look more like furniture for a stately appearance.
Circular – easy to move around, aesthetically pleasing with a contrast to otherwise right angles in the room.
U-Shape – traditionally the most efficient shape for a kitchen with easy use for prep and cleanup. Extra storage underneath.
Mobile – wheels allow you to put it away when not in use, simple and efficient for food prep purposes. Can be an open design with no cabinets below for a lighter.
3. What are my style choices?
Now comes the real fun—defining your style. Do you like clean lines? Interest areas? Function over form? Antique with lots of character? Whimsical touch? Whatever your style may be, we can accommodate you with the kitchen island that reflects your personality.
You can choose from different countertop materials such as granite, butcher block, quartz, stainless steel, marble and more. You can further define your style with a useful cutting block, cabinets painted a bright accent color, or stately wooden showpieces that feel more like furniture than cabinets.
If you have an antique piece, such as a credenza, that you'd like to incorporate, we can restore it and finish it with a protective gloss and a specially-designed top to increase its function and durability.
Your fixtures and appliances should all tie into your style as well. Our designer can work with you to draw out your ideas and create an island masterpiece that feels like an extension of yourself.
Let's get started!
The experts at The Buckingham Group are ready to get to work for you today to make your customized kitchen truly the hub of your household. To meet with our designer to discuss your kitchen island options, call us today at (918) 624-2666 or email us.
Share your vision with us.
The experts at The Buckingham Group are here to create a home that's as extraordinary as you are.
Any project, any style, any dream, bring your inspiration to The Buckingham Group.
Schedule your personalized complimentary appointment today.
The Buckingham Group  |  4727 S. Memorial Drive  |   Tulsa, OK 74145   |   918-624-2666