COUNTRY COMFORT KITCHEN, FAMILY ROOM & OUTDOOR LIVING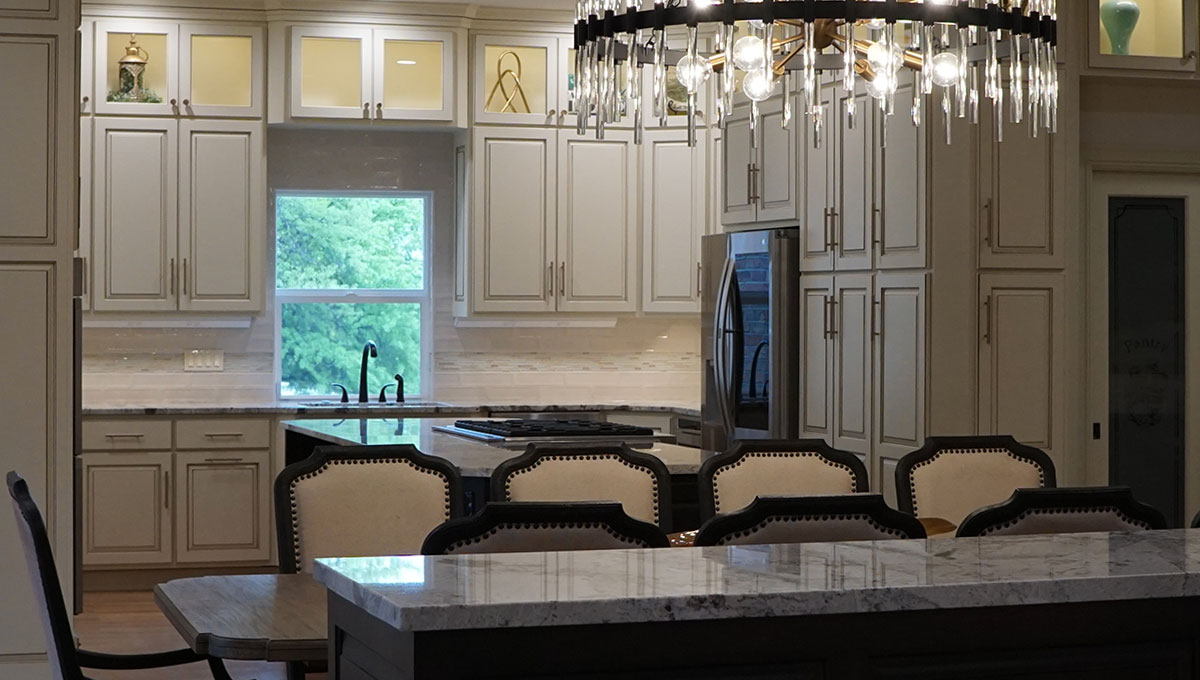 Living Large
This wide-open interconnected first floor plan features a stunning kitchen, dining, beverage bars, tons of storage and hi-tech media entertainment. Large in scale, this home will easily accommodate family holiday celebrations and large gatherings. The vibe is upscale, calm and comfortable, as particular attention has been given to spacial relationships, the color palette, lighting and continuity of style.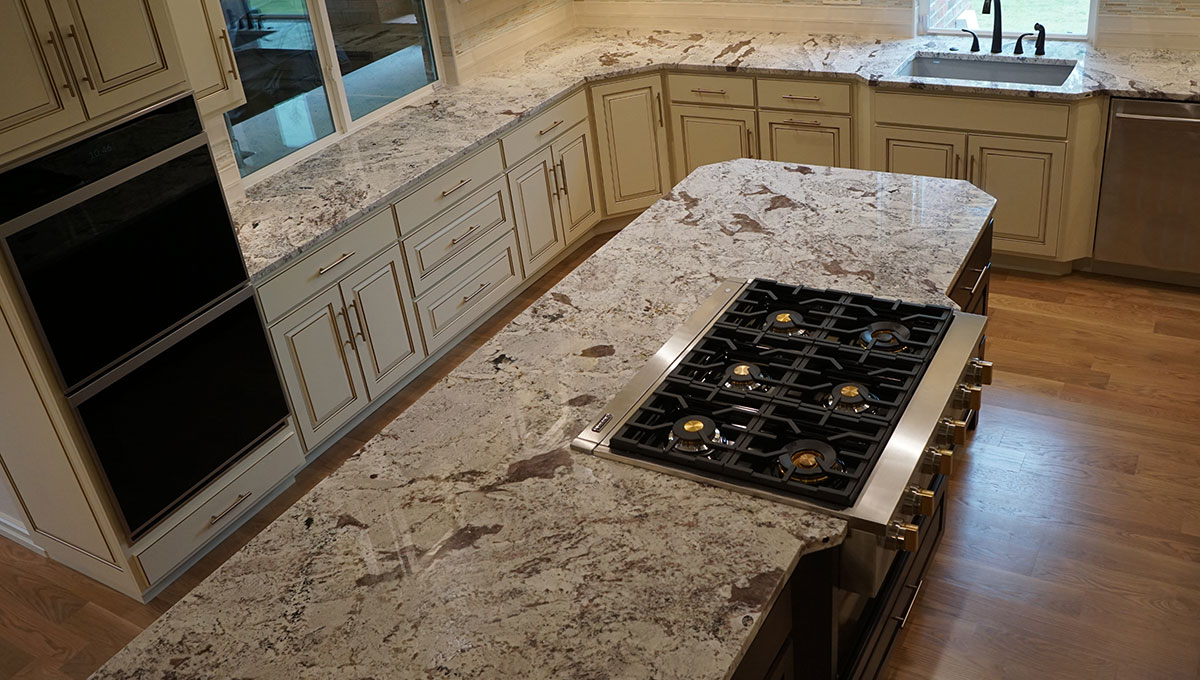 Abundant Granite Surfaces
Built for the multi-tasking chef. Plenty of space for dishes, utensils, electronics and other tools of the cooking trade. Unmatched durability. One of a kind. Efficient to clean. Simply, a pleasure to own.
Expansive, Luxurious and Open
Spacious and fully equiped to prepare and serve a culinary masterpiece or just a snack… and everything in between.
It's All About Relationships
This image illustrates the spatial relationships between the meal preparation area, storage for utensils, walk-in pantry storage, the beverage center and dining table with seating for ten.
Detail: The Coffee Bar
Granite coutertops wrap this essential high usage area. All things "beverage" are close at hand. 
Detail: Beverage Serving Area
Flanked by wine storage left and glassware right, this super coffee bar is centered between the kitchen and dining areas for easy accessibility.
Detail: Suitable Storage
Customizable drawers offer convenience and a perfect space to display fine flatware and dinnerware sets.
Detail: Beverage Area Uppers
Dark stained satin finished cabinets extend to the ceiling at ten feet. Common to the kitchen cabinets, glass upper doors are softly backlit displaying contents. 
Storage Everywhere You Look
A commitment to extensive planning, engineering and design are required to integrate this much storage into a home. It only takes a single bad decision and the look becomes overpowering. Therefore, experience feeds the vision and attention to detail drives the execution. Done right, it's a beautiful thing. An important benefit to this much available storage is avoidance of clutter for a peaceful and easy to maintain daily presentation.   
Orderly Concealed Kitchen Storage
Out of site and there when you need it.
Casual Bar Seating Overlooks Cozy Couch Seating
Adjacent to the kitchen/dining area, the media/entertainment area fits right in with classic style. Streaming films, sports, websites and music are just a few of the viewing and listening options.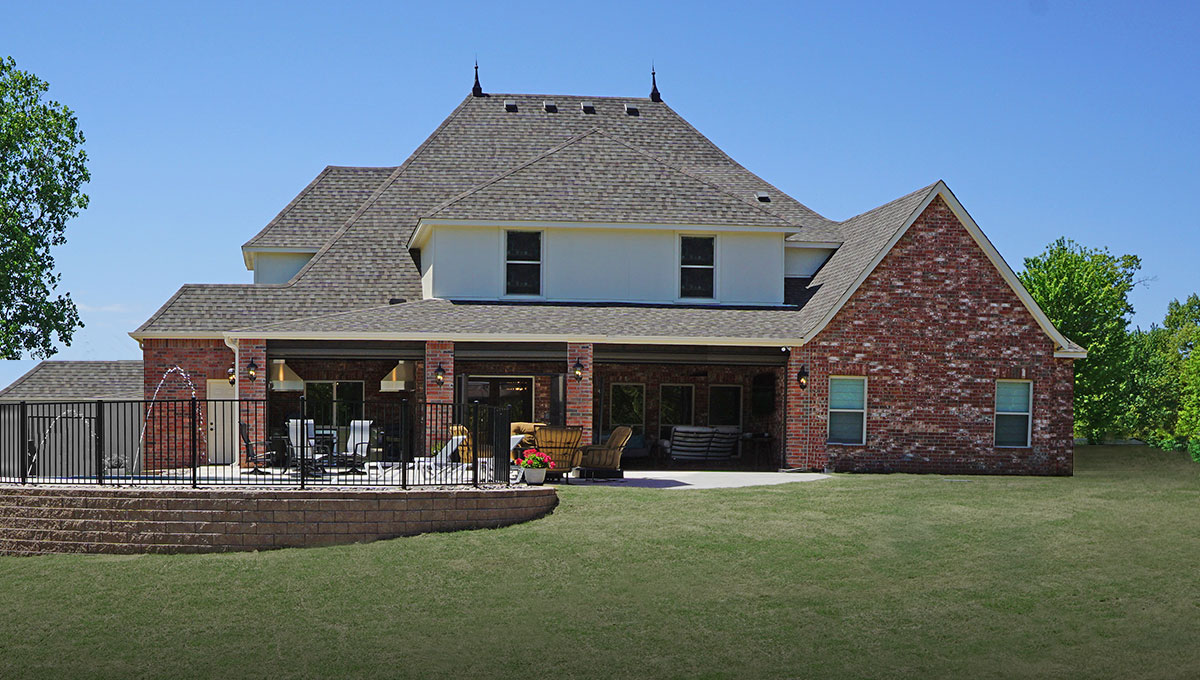 The Long View
Located on two and a half acres, this home was a perfect candidate for outdoor living improvements such as a swimmimg pool, water fountains, fire pit, outdoor media area and a high capacity outdoor kitchen. Positioned atop a gentle rise, views from the outdoor living area are of undisturbed woods with the sights and sounds of native birds and Whitetail Deer. Country comfort just twenty minutes from T-Town.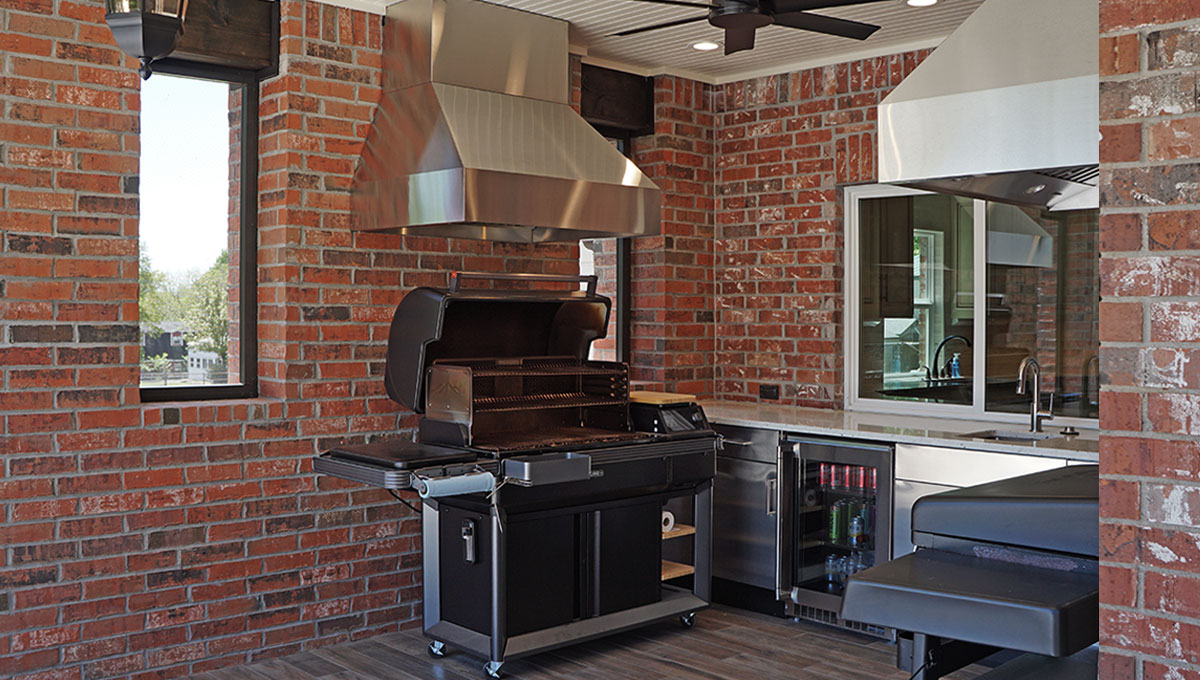 Outdoor Cooking Convenience
This weatherproof covered outdoor kitchen also provides protection from insects with motorized screens. Generous stainless steel storage of drawers, cabinets and a beverage refrigerator support a quartzite counter with a built-in sink, faucet and disposal, A handy sliding window connects the outdoor kitchen to the inside kitchen when needed. A huge grill/smoker unit on one wall faces a large dedicated grill on the opposing wall. Twin hoods routed through the car siding ceiling efficiently exhaust smoke and cooking odors. Tile flooring is a snap to clean as are all of the other surfaces in this smart layout.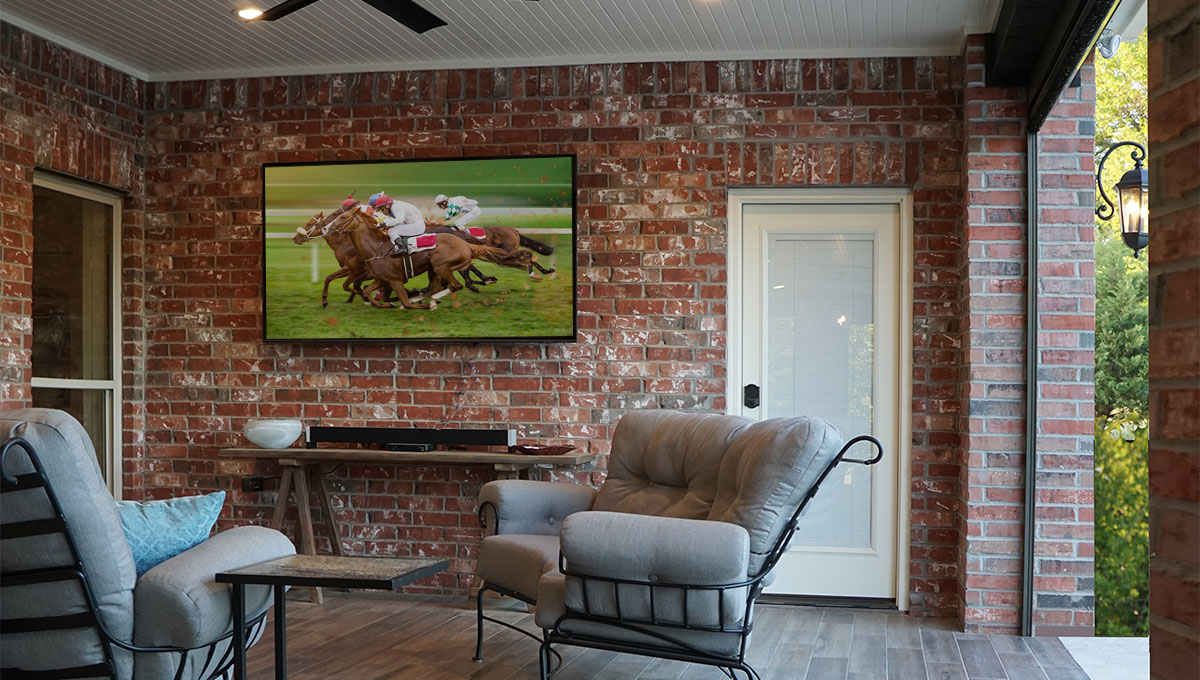 Big Outdoor Media Display
Sports fans, movie goers and gamers alike will love this setup. As needed, insects are held at bay with a system of motorized screens.     
The Great Outdoors
Neat and clean details make the difference.
The Sound of Bubbling Water
A nice place to relax and recharge.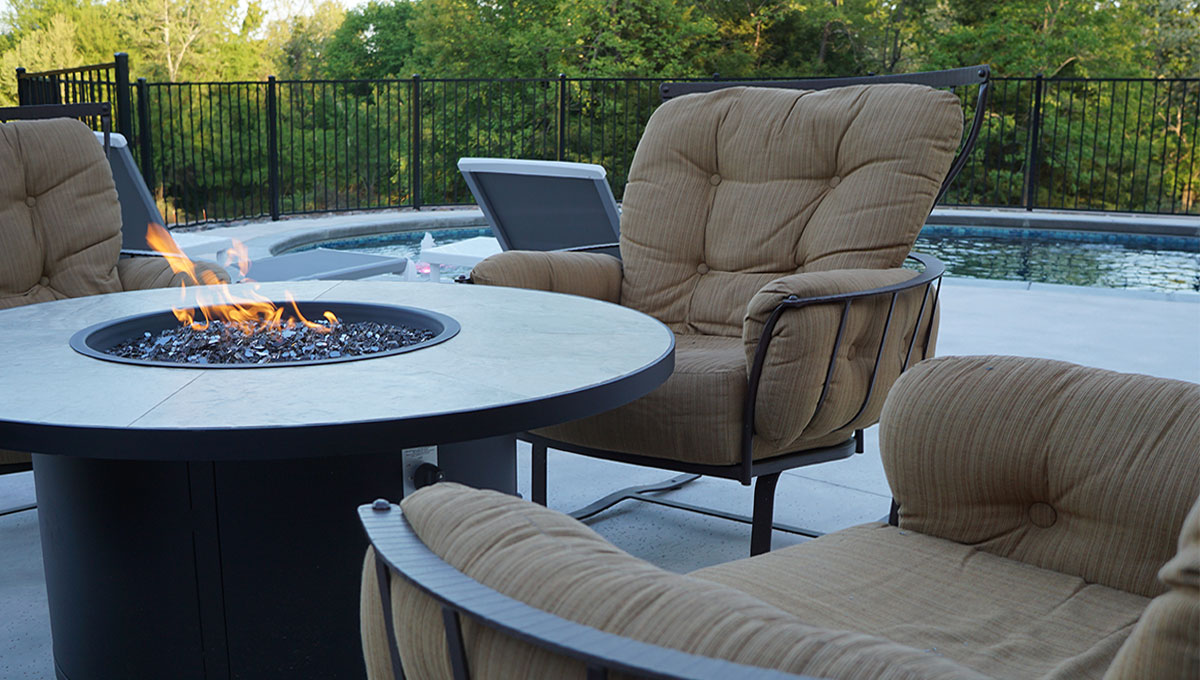 A Cozy Outdoor Setting
Conversation, a good book or simply watching the children at play, this is a lovely setting.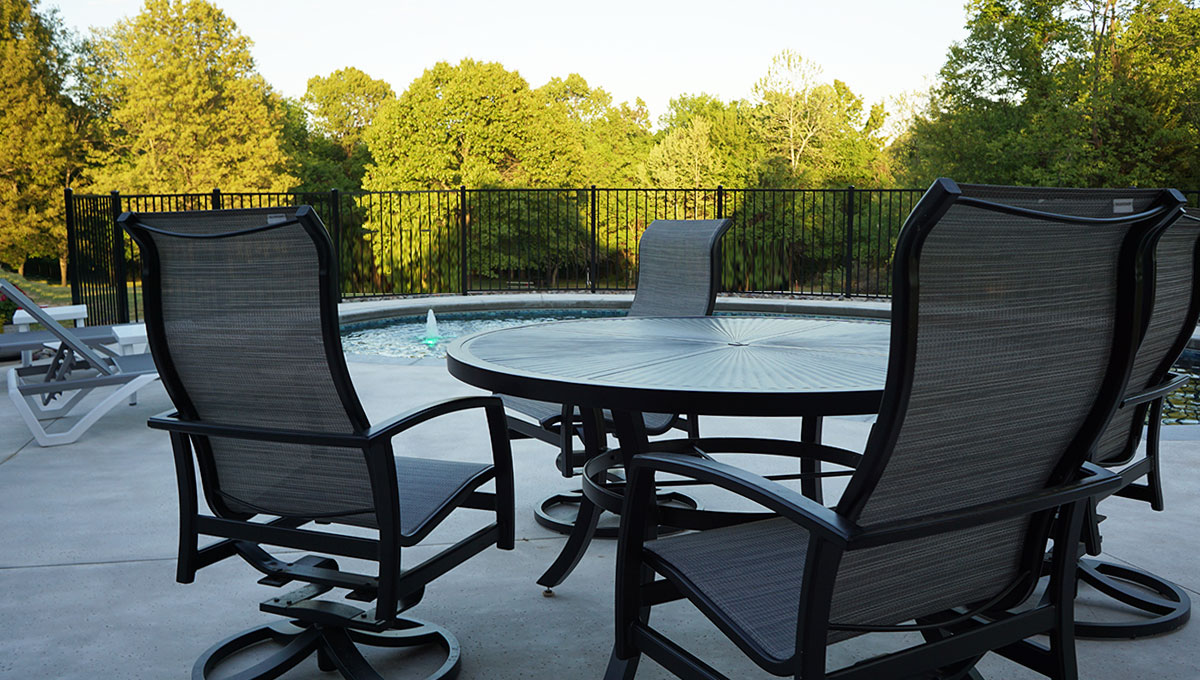 The Sights and Sounds of Nature
This vantage point will deliver through the seasons year after year.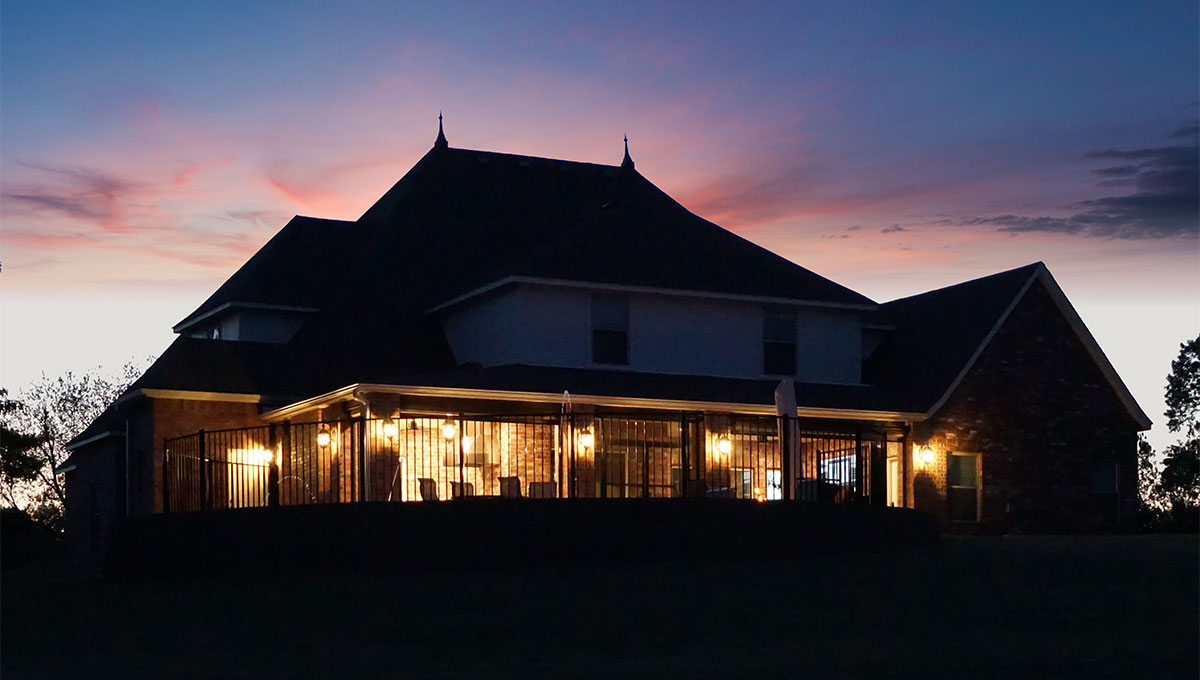 The Sunset Transformation
Completed in 2023, There's a lot to like about this home. A Buckingham Group favorite for sure.
Share your vision with us.
The experts at The Buckingham Group are here to create a home that's as extraordinary as you are.
Any project, any style, any dream, bring your inspiration to The Buckingham Group.
Schedule your personalized complimentary appointment today.
The Buckingham Group  |  4727 S. Memorial Drive  |   Tulsa, OK 74145   |   918-624-2666