A stairway is much more than a way to get from point a to point b. Whatever you consider the stairway to be, as a stage for a bride to descend from or as simply support for a railing to slide down, it has traditionally offered an unusual vantage point from which to people watch or for making a grand entrance on Christmas morning. There's nothing better than a staircase to showcase your style. Whether it is contemporary or baroque, The Buckingham Group can create the perfect stairway for your home.
Just Right Staircase Villa Grove Park 2022
The beauty is in the details. Dark stained hardwood handrails and posts are supported with elegant black iron balusters. Line of site is open and airy. The presentation is softened with partially carpeted steps and risers which also provide sound reduction and increased safety. Flush mounted LEDs light the way. This substantial staircase is built for years of high usage in high style.
Graceful Curves Ahead Hudson Meadows 2006
The original unimposing cookie cutter stairway occupied the center of the entry foyer blocking the view from the entry to the backyard. This stairway was removed, a cantilevered landing was installed on the second level and a graceful curved staircase installed. Accented with an ornamental wrought iron railing, glazed risers and hardwood treads this majestic staircase provides an open view into the beautiful backyard of this 5-acre estate.
Habitually Historic Sunset Terrace 2009
As an integral part of the restoration of a 1500-sf basement in a 1928 Maple Ridge historic home we completely rebuilt the stairway. The entire railing system along with stairway risers and treads were removed. Damaged balusters were accurately reproduced using original drawings for the home. New oak treads and pine risers were added to complete the restoration.
Step Aside Wexford Estates 2016
Stairway railings serve more than a functional purpose in this whole house Tulsa Remodel. New oak railings, treads and risers and ornamental iron balusters replaced carpeting and wood balusters to create a visual presence for this first to second level stairway.
Defining Details Braniff Hills 2018
Details of the ornamental iron and bread loaf oak handrail are illustrated in this photo. Rising from new oak stair treads this once boring staircase was transformed into an elegant feature of the entry hall.
Curved Ascent Braniff Hills 2018
Located near the Southern Hills Country Club this home had been built in the mid 50's for a prominent Tulsa family. Strategically located on a sloping three – acre lot and surrounded by mature trees, the home rested peacefully, waiting patiently for a new homeowner to refresh its interior and to complement its exterior with additional architectural features. This curved staircase was one element of the extensive remodel that was done by The Buckingham Group.
Metallic Accents South Tulsa 1985
A custom stainless-steel and brass circular stairway takes the homeowner and his guests from the dining room to the black ebony wet bar on the balcony above. Brass and stainless steel were chosen for the stairway's construction by The Buckingham Group because they were symbolic of the owners' financial success in the sale of precision brass and stainless-steel valve assemblies.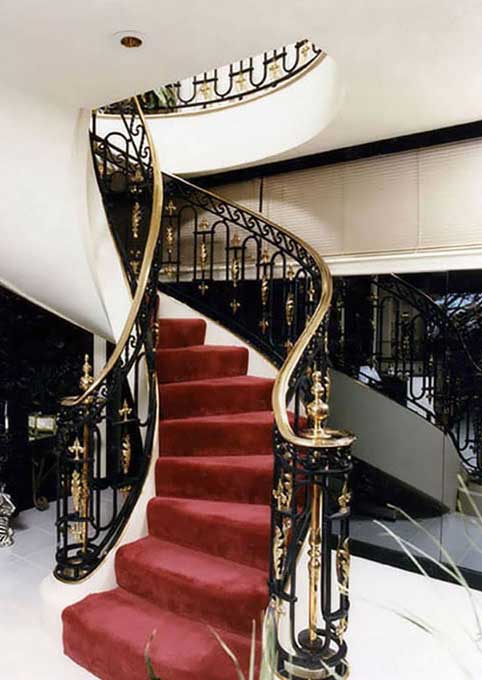 Form Meets Function Childers Heights 1986
This award-winning stairway was fabricated using a combination of two fabricators, Zephyr Metal and Ernie Wiemann Metalcraft, both of Tulsa, Oklahoma. Connecting the first and second levels of an elaborate triple spaced condominium it provides the route for the owners and guests to descend from the living room into the entertainment room. All elements of the staircase were handcrafted with meticulous detail.
Share your vision with us.
The experts at The Buckingham Group are here to create a home that's as extraordinary as you are.
Any project, any style, any dream, bring your inspiration to The Buckingham Group.
Schedule your personalized complimentary appointment today.
The Buckingham Group  |  4727 S. Memorial Drive  |   Tulsa, OK 74145   |   918-624-2666