Extraordinary Estate
A new cast stone porch, two patios and cast stone trim were designed into the new face of the home. More than 500,000 lbs. of custom cast stone by Stone Legends were meticulously installed. Landscaping was added as construction was completed.
Stately Entrance of Cast Stone, Copper and Knotty Alder
Pella Architectural Series casement windows replaced the original Aluminum windows. Wilshire Copper Dormers were custom fabricated by Beach Sheet Metal of Sunnyvale, Texas. Knotty Alder doors by Windor Supply complement and provide a welcoming entry to this 10,000sf home.
Eye Catching Architecture
A sweeping staircase takes the homeowners from the spacious entry to the media room on the second level. A white oak floor leads guests from the custom Knotty Alder entry past the Doric columns into the great room with 20-ft soaring ceilings.
Room with a View Hudson Meadows
The ceiling of the family room was raised to ten feet. A double French Vault ceiling was created and outlined by Knotty Alder decorative beams. A cast stone fireplace from Stone Legends of Dallas Texas created a fireplace focal point.
The Majesty of Marble
New windows and doors were installed along with new LED lighting. An overall view of the finished great room is enhanced by the light filtering through the new bank of Pella windows and doors on the west side of the home. The 16-ft tall cast stone fireplace was added to provide a major focal point. A custom chandelier hangs from the Knotty Alder ceiling, while decorative knotty Alder Lock Miter Beams separate the ceiling into three distinct sections.
The Warmth of Wood
The sagging ceiling weighed down by a concrete roof was jacked up 2" to correct structural deficiencies found in the original construction. Steel support posts and engineered beams were installed to guarantee the structural integrity of this portion of the home. Knotty Alder tongue and grove ceiling planks were custom made in California, shipped to Tulsa, and then finished prior to installation. The Knotty Alder decorative beams were locally made to complete this impressive ceiling.
Island Living
Twin Knotty Alder Islands provide a unique design solution to spatial requirements in this kitchen. Wolf & Subzero appliances & Kohler plumbing fixtures provide needed function.
Woman's Touch
A cast stone fireplace, custom fabricated by Stone Legends of Dallas Texas, transformed the fireplace from ugly to beautiful. A double French vault ceiling took advantage of attic space above the room. Oak hardwood floors replaced the carpet. Custom drapes from Leslie Elliot Interiors complement the traditional club chairs in this revitalized master bedroom.
Luxurious Lair 
The walls and ceiling of this custom frameless steam shower are covered with Travertine Marble Slabs. Oil rubbed bronze Delta plumbing fixtures provide a choice for the showering experience. A Kohler whirlpool tub with a stimulating array of jets is centered in a custom Knotty Alder tub surround. A double French Vault Ceiling adds a spacious feeling to this master bathroom.
French Country Comfort
Knotty Alder cabinets from Jay Rambo Cabinets provide an abundance of storage as well as a luxurious bathroom environment for the wife's vanity area of this master bathroom. Antique wall scones, custom beveled mirrors and a Travertine Marble countertop with a Delta lavatory faucet complete her side of this spacious master bathroom. A heated floor adds a hidden source of comfort.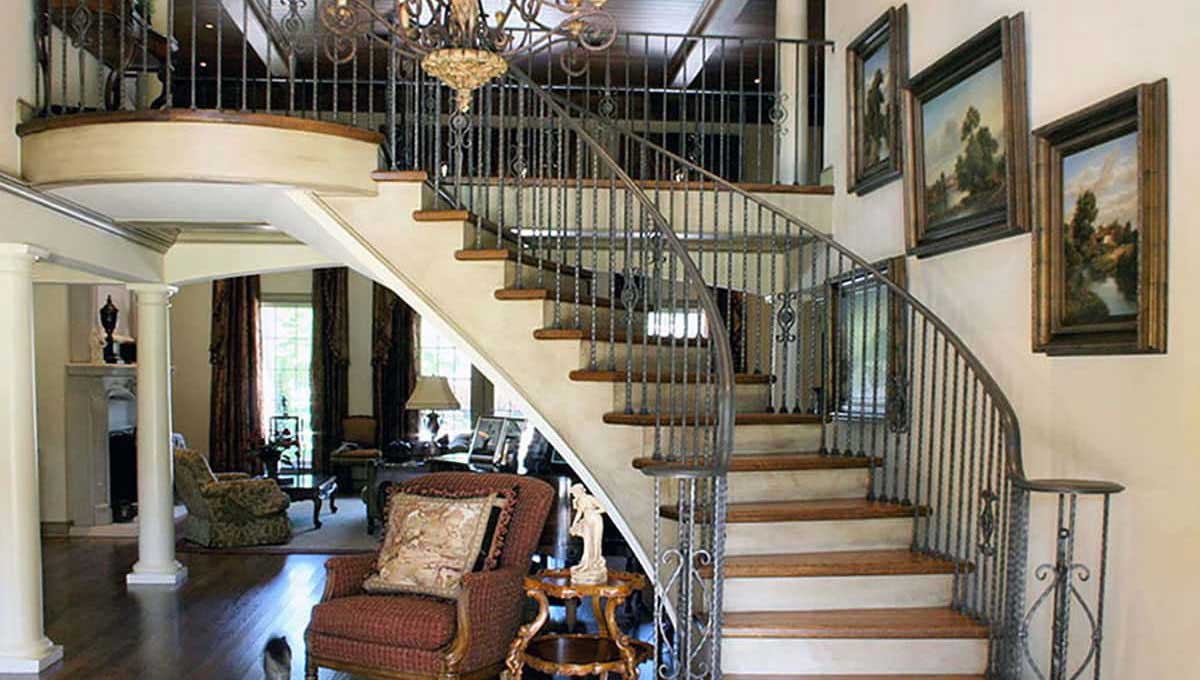 Graceful Curves Ahead
The original unimposing cookie cutter stairway occupied the center of the entry foyer blocking the view from the entry to the backyard. This stairway was removed, a cantilevered landing was installed on the second level and a graceful curved staircase installed. Accented with an ornamental wrought iron railing, glazed risers and hardwood treads this majestic staircase provides an open view into the beautiful backyard of this 5-acre estate.
A Sound Solution 
This custom home theater has sound traps in both corners and features extensive acoustical treatment in the walls, ceiling and floor. These have been engineered to completely isolate it from the surrounding living space. The theater includes custom speakers, a Lutron Radio RA total home control system, tiered seating, custom carpeting, LED Lighting, and an acoustically transparent screen.
Stand By for Music
A restored Wurlitzer Jukebox provides music to this 600 sq. ft. game room addition. Pella Architectural Windows and Doors coupled with a geothermal HVAC system creates the perfect temperature control for both video games, billiards, and shuffleboard.
Call Your Shot
A custom-built billiards table provides one of the many sources of entertainment in this 600 sq. ft. game room addition. A 6-inch white oak floor with walnut pegs complements the knotty alder trim and beamed ceiling and allows for easy clean up.
South Side Shuffle
A shuffleboard playing surface sits in front of the stairway to a guest bedroom on the second level. A full bath, kitchenette and living room complete the guest quarters which were added as an integral part of the game room addition.
Ready for Entertaining
A game room and covered entertainment patio were designed & built as the final stage of the remodel of this 9,500 sf home. Housed under a double French Vault ceiling the outdoor kitchen features DCS outdoor appliances and maintenance free, total stainless-steel cabinets by Danver Cabinets. Pella Architectural Series doors anchor one end of the patio, while cast stone columns from Stone Legends integrate this area into the overall architecture of the home.
Cooking Couple 
Anchoring one end of this 1,000-sf patio is an elaborate outdoor kitchen featuring DCS Appliances. This covered patio was the last construction phase of a 10-year 35-project conversion of an 80's home into an extraordinary estate in South Tulsa.
Party Perfect
Outdoor living is about more than just a BBQ area or patio, it's about bringing the functionality and comfort of the indoors outdoors with your personal style. DCS Outdoor Kitchen Appliances await the culinary expertise of a private chef. Stainless steel cabinets by Danver were custom tailored to match the lifestyle of our client and to withstand harsh winters and extremely warm summers in Tulsa, Oklahoma.
A Backyard Retreat 
This covered patio includes and outdoor kitchen, 1,000-sf of entertainment space and seating for up to 35 guests. A double French Vault ceiling is covered with concrete roof tiles. The cast stone floor and columns were custom fabricated by Stone Legends of Dallas, Texas. Copper guttering diverts water run-off into an underground collection system.
Classic Columns 
Ten classic Cast Stone Doric Columns by Stone Legends of Dallas, Texas supports the roof over this 1,000-sf patio. With seating for up to 35 guests this area completed the entertainment complex for this 10,000-sf home.
Secluded Spaces 
A beautiful cast-stone fireplace mantle coupled with cast stone floor and columns from Stone Legends of Dallas, Texas anchors one end of this elaborate outdoor patio. A true masonry fireplace provides warmth for the owner and his guests for fireside chats on cool nights.
Four Seasons Getaway
Custom cast stone columns by Stone Legends of Dallas, Texas are anchored by the cast stone pavers of this 1,000-sf covered patio. With seating for 35, guests can enjoy views of the backyard which includes a 60-ft diameter Koi Pond with two waterfalls, a tennis court, and elaborate landscaping.
Enhanced View 
A tastefully landscaped plant bed compliments the new wall of Pella windows in the family room. Both the adjoining eating bay and the family room were part of a total interior and exterior remodel of this 10,000-sf home. This space is where the Owner starts his day as he watches an abundance of wildlife found in his backyard.
Falling Water
An architecturally interesting courtyard was added to the front of the home to not only enhance its overall appearance but to provide the soothing sound of falling water in the adjoining dining room. The cast stone fountain was custom made for this extraordinary home.
The Courtyard
A tranquil courtyard complete with fountain was added to the front of the home to not only enhance its overall appearance but to provide the soothing sound of falling water in the adjoining dining room. All the cast stone visible in this photograph was custom made for this home by Stone Legends of Dallas, Texas. Custom ornamental iron balconies create an additional means of egress from the second level bedrooms.
Privacy Please 
A free-standing courtyard with cast stone balustrades sits quietly in front of a brick wall enclosed patio. The Pella door shown behind the ornamental iron gate provides direct access to the master bedroom. Opening it allows the owner to step out in the morning and sip coffee as he watches the sun rise to the east. The custom copper dormers provide architectural interest to the existing concrete tile roof.
Grandeur with a Splash
A new hip roof was installed over the porch to allow additional light into the interior. Pella Architectural Series windows and a door were added, providing direct access to the Great Room and its 20-ft ceiling. Custom cast stone pillars and crown molding were fabricated by Stone Legends of Dallas, Texas. Copper guttering and a new concrete tile roof were added to complete the transformation of the porch from boring to beautiful.
Share your vision with us.
The experts at The Buckingham Group are here to help create a home that's as extraordinary as you are.
Any project, any style, any dream, bring your inspiration to The Buckingham Group.
Schedule your personalized complimentary appointment today.
The Buckingham Group  |  4727 S. Memorial Drive  |   Tulsa, OK 74145   |   918-624-2666