DISTINCTIVE BATHROOM SHOWERS
Each shower is an original, designed and built by The Buckingham Group. From efficient powder rooms to expansive luxury bathroom/dressing suites, our reputation for fulfilling our clients' needs and wants is well earned.
Luxurious Retreat Sand Springs 2017
A custom frameless door and enclosure by Rogers Glass encloses the master shower. The walls are covered with full body porcelain tiles from Interceramic. A combination of a Kohler fixed shower head and personal shower provide an individual choice for showering. The heated shower seat capped with an Alaska White Granite slab provides a place to relax while enjoying the soft spray of warm water.
The Glass Shower Sand Springs 2017
The beauty of full body porcelain tile from Interceramic is viewed through the custom frameless shower door from Rogers Glass. A Kohler transfer valve allows the user to switch the showering experience from a traditional shower head to the versatility of a personal shower with multiple selections of water spray and temperature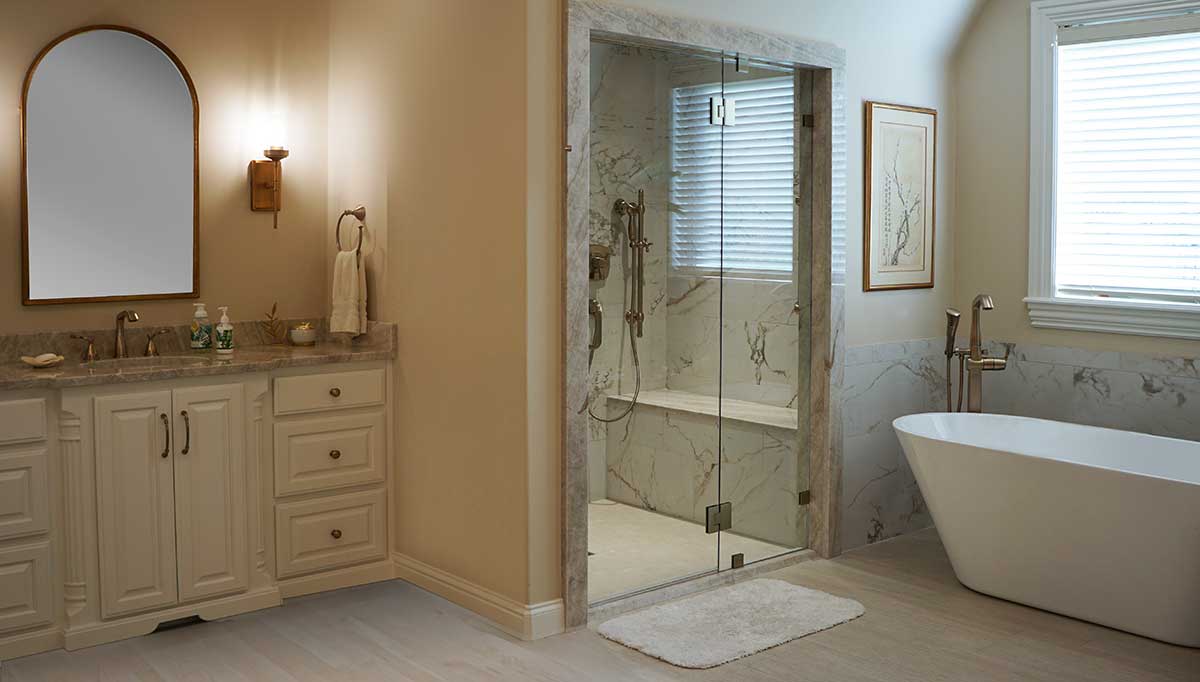 Spacious Luxury Bathroom Waterstone 2023
Advanced shower controls provide overhead water delivery as well as handheld. Heated flooring and seating make for an easy, comfortable experience. And, traditional styling brings the presentation together.
Natural Light Villa Grove Park 2020
Beautiful natural light streams in through this horizontal window upwardly positioned for privacy. A frameless clear glass "floor level" shower provides for safe and convenient usage by our retired homeowners today and into the future. The handheld shower and grab bar complete this aging-in-place friendly design build remodel by The Buckingham Group.
High-end Multifunctional Shower Villa Grove Park 2022
Two independent water delivery systems handle bathing needs from seated and/or standing postures. The generous glass-framed space is, in part, made available by the pocket door on the right which, of course, requires no swing clearance. Large wall tiles contrast nicely with the smaller tiles found in the contrasting blue toned border and more subdued shower floor. On the left, the black lacquer framed mirror brings visual balance to the setting overall. Grab handles are at the ready. Aging in place. Aging in style.
Luxurious Lair Hudson Meadows 2007
The walls and ceiling of this custom frameless steam shower are covered with Travertine Marble Slabs. Oil rubbed bronze Delta plumbing fixtures provide a choice for the showering experience. A double French Vault Ceiling adds a spacious feeling to this main bathroom.
Suite Escape Hudson Meadows 2019
A SunTouch electric heating mat is concealed under both the bathroom floor and the shower floor and seat. An opaque frameless shower door provides privacy and direct access to the interior of the master shower.
Spa Retreat Braeswood 2004
This expansive main shower features an exotic granite on the walls and ceiling, two frameless shower doors and a programable Grohe shower tower at one end. The opposite end of the shower features both fixed and personal shower and a built-in granite seat.
Classic Carrara Wexford 2014
Carrara subway tiles cover the walls of this custom master shower. Two showering stations feature both fixed and adjustable Kohler shower heads. A heated towel rack provides warm towels that extend the comfort provided by the heated shower floor and shower seat providing a true luxury showering experience.
Carrara Marble Shower Wexford 2014
The main shower walls are covered with Carrara marble subway tile. Walls are enclosed with a frameless glass shower surround and Carrara marble. The absolute black granite countertop supports a Kohler vessel sink in this high-end bathroom.
Classic Contemporary Millcreek Pond 2012
The high gloss acrylic cabinets end at the Acme Building IBP glass block shower enclosure. This large door-less shower is divided into two sections, the wet or bathing section which is complete with Kohler built in body sprays and fixed and personal shower heads. The drying area is curb-less for ease of access. It is outfitted with infrared heaters in the ceiling and a sitting bench with a Blue Pearl granite seat.
Bathing Beauty Braniff Hills 2015
A high-volume Kohler Tub Filler with polished chrome finish and personal shower are used to fill this Bain Ultra air tub. A wall mounted Bain Ultra infrared activated programable controller can be used to activate a broad spectrum of therapeutic experiences while soaking in the luxury of this master bathroom tub.
SunTouch Heated Shower Floor Braniff Hills 2015
Simulated Travertine Porcelain tile from Emser covers the shower walls and the electrically heated SunTouch floor.
Share your vision with us.
The experts at The Buckingham Group are here to create a home that's as extraordinary as you are.
Any project, any style, any dream, bring your inspiration to The Buckingham Group.
Schedule your personalized complimentary appointment today.
The Buckingham Group  |  4727 S. Memorial Drive  |   Tulsa, OK 74145   |   918-624-2666