YOUR INSPIRED BATHROOM AWAITS
At The Buckingham Group, we design bathrooms for real life. We are curious not only about the function and performance of our bathroom designs, but with the emotional role they play in your life. For us a bathroom design is not a self serving goal, it is our effort to make your life a little bit better.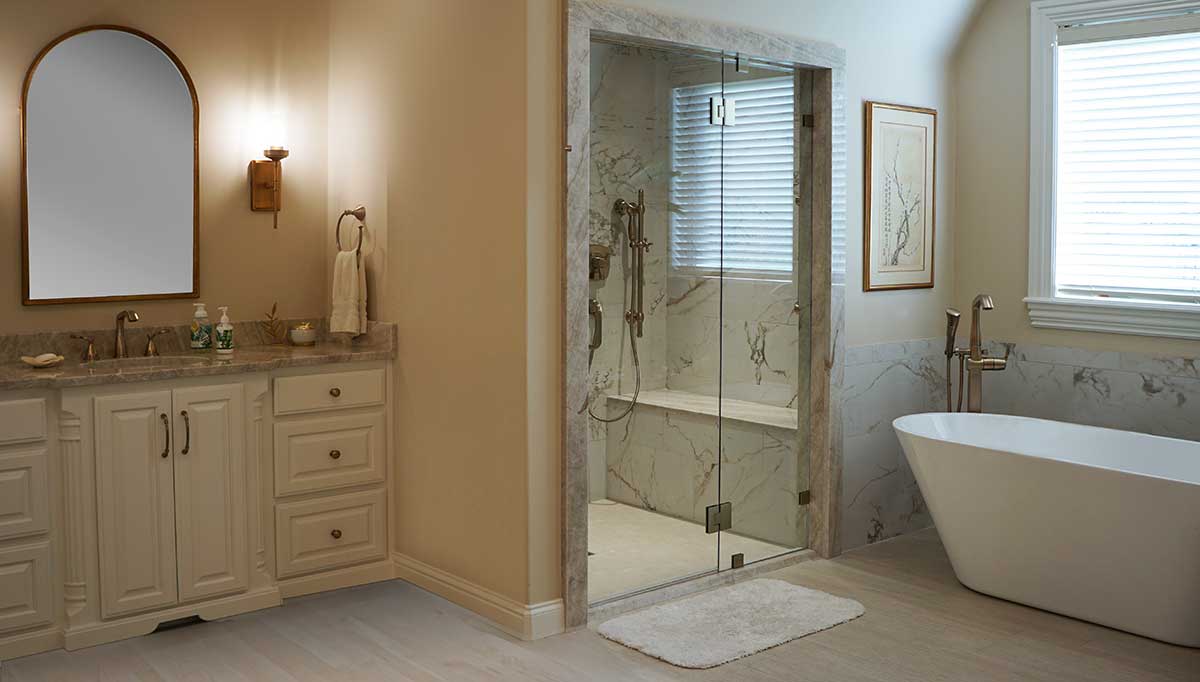 Spacious Luxury Bathroom Waterstone 2023
This main bathroom suite is very large making it a fantastic aging-in-place example. Luxurious Quartzite abounds along with light toned wood-look tile flooring. Advanced shower controls provide overhead water delivery as well as handheld. Heated flooring and seating make for an easy, comfortable experience. And, traditional styling brings the presentation together.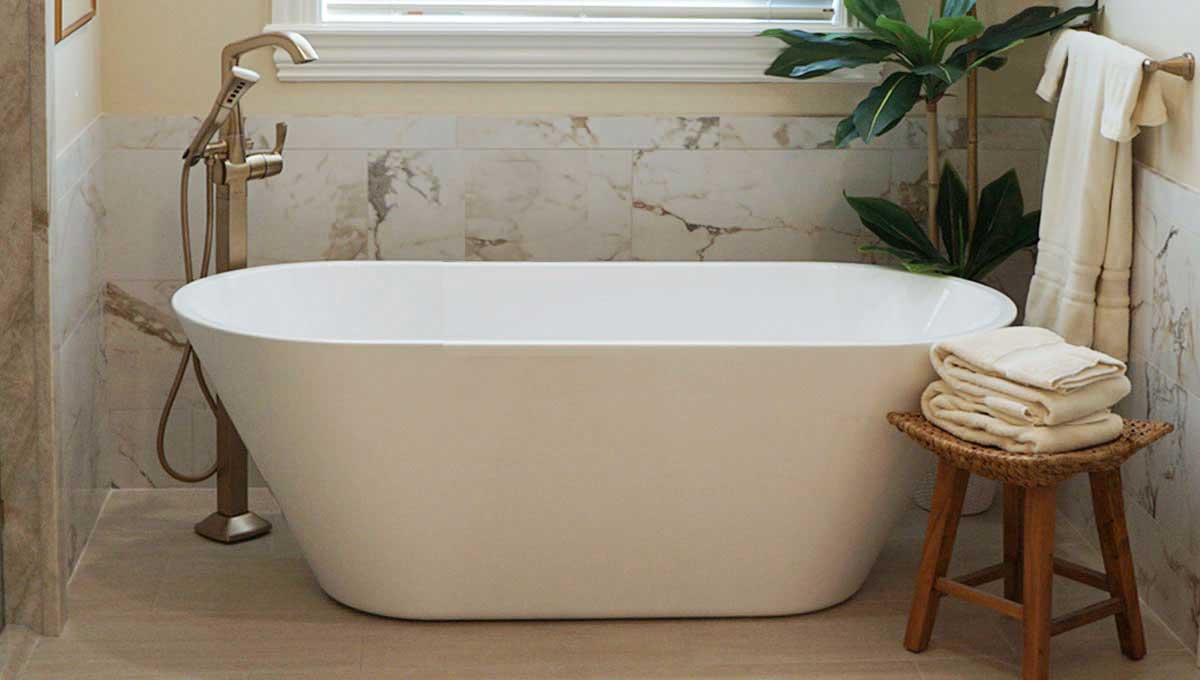 The Recharging Station Waterstone 2023
This cozy spot is perfect for relaxation and a healthy body and mind lift. The tub filler features both stationary and handheld water delivery. And, natural light brings warmth into the scene. In summary: "Ahh".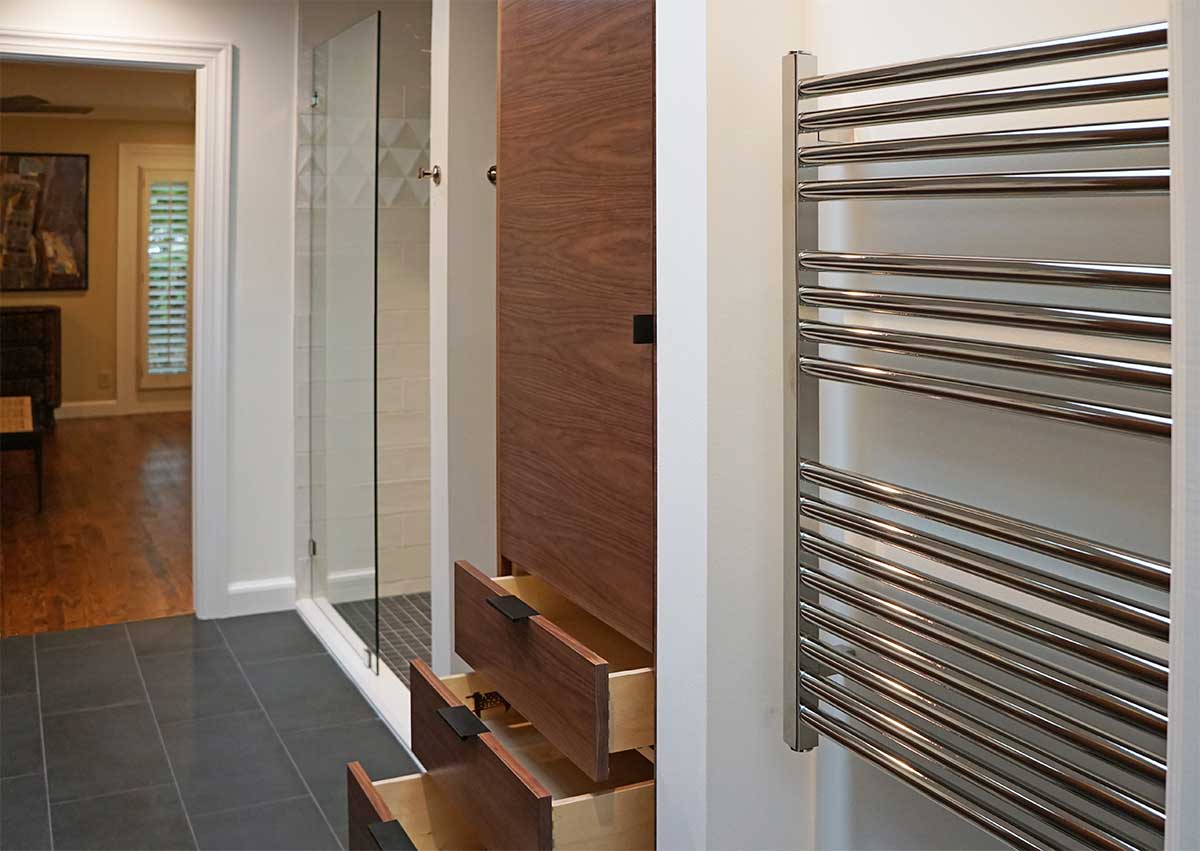 Linear Convenience Bathroom Suite Clark Estates 2023
The flow through this layout makes this bathroom accessible with generous storage. On opposing ends, this space is flanked by the main bedroom and a laundry/utility. Heated towels add a sense of luxury and comfort.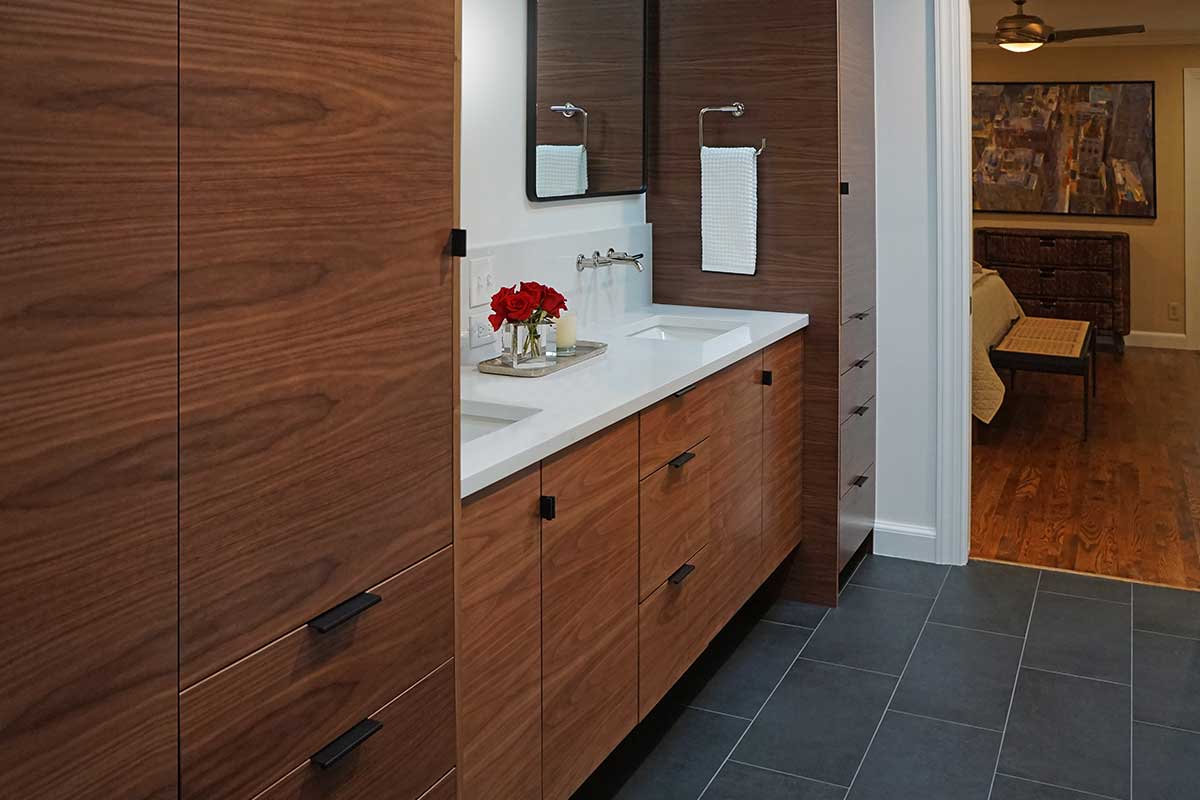 Easy Access Bathroom Suite Clark Estates 2023
Either end pocket doors and a doorless shower make this layout feasible. Because there are no traditional swinging doors here, the pathway is always clear.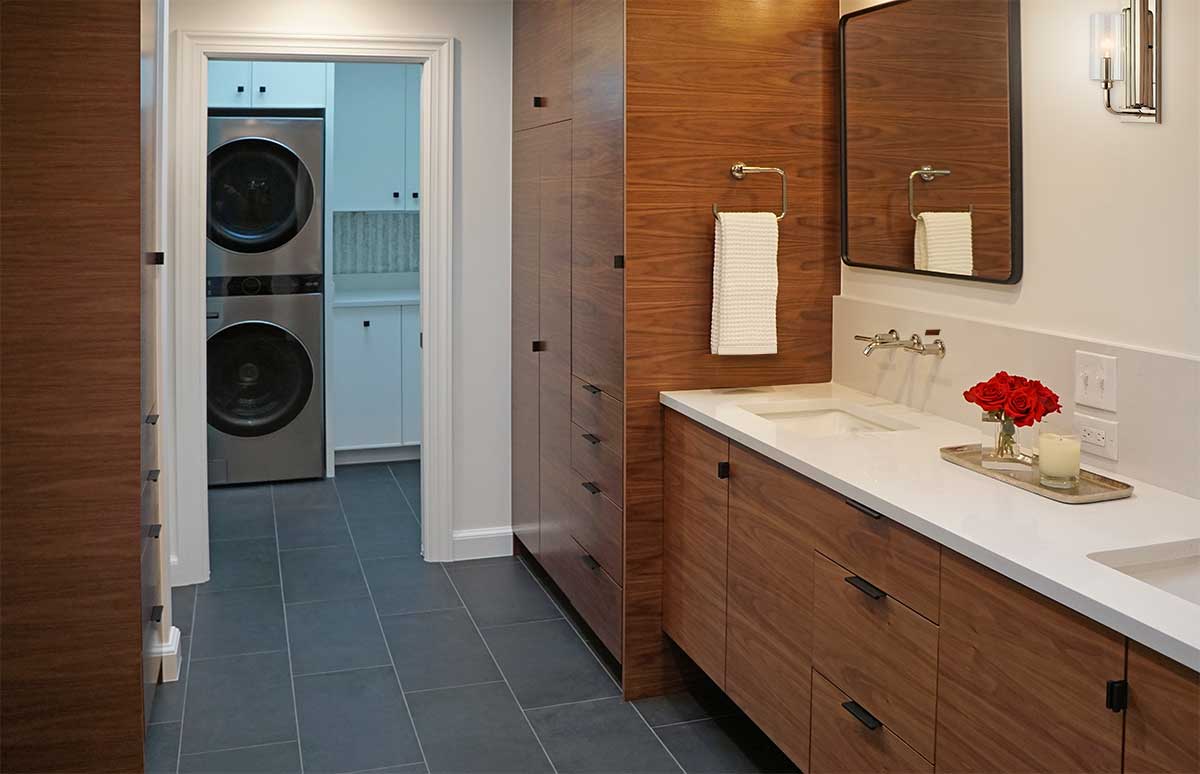 Book Matched Walnut Bathroom Suite Clark Estates 2023
A Designer Showcase 2023 home, we feel the minimalist modern styling with finely crafted frameless Eurostyle cabinetry in Book Matched Walnut make this a stunning example.
Natural Light Villa Grove Park 2020
Beautiful natural light streams in through this horizontal window upwardly positioned for privacy. A frameless clear glass "floor level" shower provides for safe and convenient usage by our retired homeowners today and into the future. The handheld shower and grab bar complete this aging-in-place friendly design build remodel by The Buckingham Group.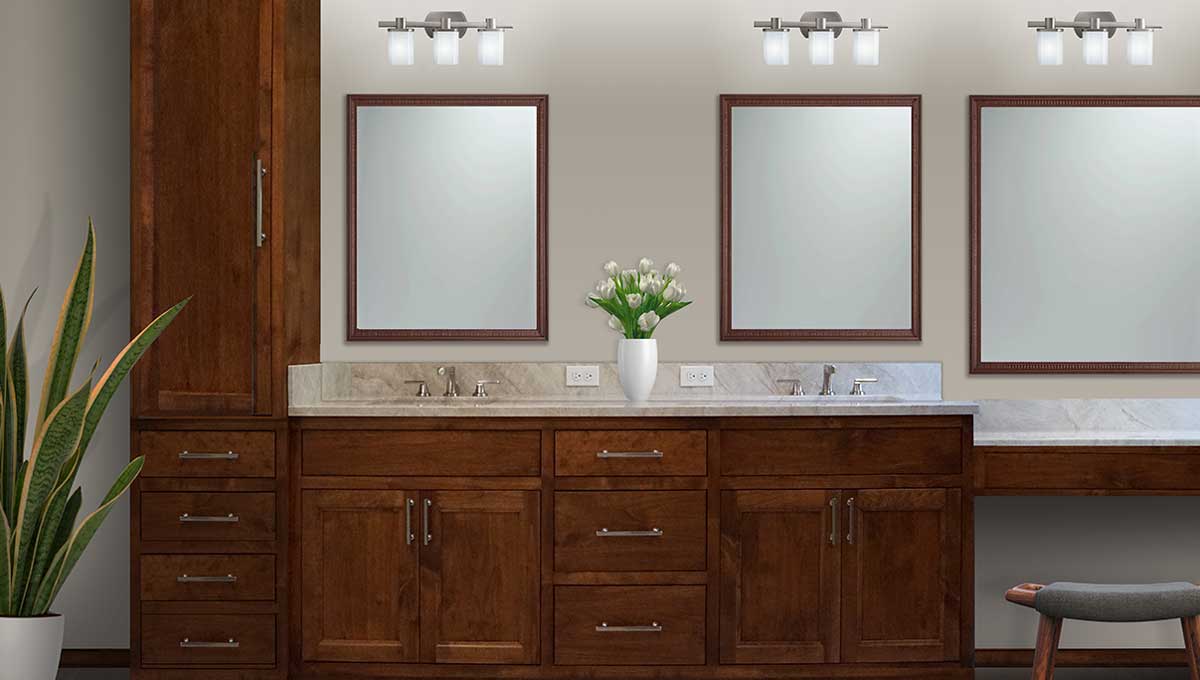 Master Bathroom Suite Owasso 2022
Custom cabinets constructed of Superior Alder make a bold, yet refined, statement in this master bathroom. Contrasting quartzite countertops outfitted with Brizo facuets in their Lux Nickel finish complete the presentation. Custom mirrors and an electrically heated floor add to the warm, cozy and upscale status of the bathroom . From a practical standpoint, surfaces are quick to clean, while a wealth of cabinets provides an abundance of storage to keep things organized and close at hand.
Timeless Contemporary Cedar Crest 1992
His and her vanities surround a Kohler cast iron whirlpool in this master bathroom. The Euro style frameless cabinets are finished with ten coats of Dupont Automotive Lacquer. Jaclo Faucets and a Kohler cast iron whirlpool are mounted on a cantilevered platform that gives the illusion of the tub being suspended in space. A cathedral ceiling with Velux Skylights provides a tranquil environment for an evening soak under the stars.
Fit for a Modern Lifestyle Signal Hill 2017
A custom Sapele frame surrounds the mirror in his side of this master bathroom. An acrylic soaking tub is centered under the cathedral ceiling. Large format porcelain tiles are warmed by a SunTouch electric heating floor mat. A HiMacs solid surface countertop with self-edge and integral solid surface bowl provide a maintenance free surface. Toiletries and towels are stored in an abundance of cabinet drawers wall cabinets.
Airy Elegance Signal Hill 2017
Custom Brazilian Mahogany cabinets support the solid surface counter tops in her side of this spacious master bathroom. The row of tall wall cabinets provides generous storage for linens and towels. A frameless shower door provides access to the master shower.
A View for Two Sand Springs 2017
An Alaska White Granite countertop with under-mount Kohler sinks and lavatory faucets outfits his and her vanities in this master bathroom. Woodstock transitional, partial overlay cabinets with a catalyzed lacquer finish provide an abundance of needed storage for toiletries and towels.
Luxurious Retreat Sand Springs 2017
A custom frameless door and enclosure by Rogers Glass encloses the master shower. The walls are covered with full body porcelain tiles from Interceramic. A combination of a Kohler fixed shower head and personal shower provide an individual choice for showering. The heated shower seat capped with an Alaska White Granite slab provides a place to relax while enjoying the soft spray of warm water.
Don't Discount the Curves Sand Springs 2017
A Jetta Model J-73 soaking tub is filled from a floor mounted Kohler Tub Filler. Plantation shutters from Battle Creek Shutters control daylight and provide privacy as needed. An electrically heated porcelain tile floor adds to the overall comfort of this master bathroom.
The Glass Shower Sand Springs 2017
The beauty of full body porcelain tile from Interceramic is viewed through the custom frameless shower door from Rogers Glass. A Kohler transfer valve allows the user to switch the showering experience from a traditional shower head to the versatility of a personal shower with multiple selections of water spray and temperature
The Works Sand Springs 2017
Strategically located Kohler fixed and personal shower heads enable the users to select their favorite showering experience. A recessed shampoo niche provides a convenient location for soaps and shampoos. A decorative band of coordinating accent tile from Interceramic adds visual interest and aesthetic appeal to the shower walls.
Master Bathroom in Shades of White Villa Grove Park 2022
Subtle differences in hues help make this master bathroom a standout. Delta faucets with a Champagne Bronze finishes, coordinated cabinet pulls, and two custom mirrors from Grant's Frames of Tulsa create just the right amount of contrast. Warm Taj Mahal Quartzite counters are both beautiful and functional atop the individualized storage. A custom cosmetic bench pulls out over the electrical heated porcelain tile floor. This space was part of an extensive Midtown total home remodel completed in 2022.
High-end Multifunctional Shower Villa Grove Park 2022
Two independent water delivery systems handle bathing needs from seated and/or standing postures. The generous glass-framed space is, in part, made available by the pocket door on the right which, of course, requires no swing clearance. Large wall tiles contrast nicely with the smaller tiles found in the contrasting blue toned border and more subdued shower floor. On the left, the black lacquer framed mirror brings visual balance to the setting overall. Grab handles are at the ready. Aging in place. Aging in style.
Arrangement for Two Woodland Heights 2019
Twin under-mount American Standard lavatories are symmetrically placed around the tall wall cabinet which sits on a custom fabricated Shadow Storm marble countertop. For the optimum in functionality and capacity, it is recessed into the wall cavity gaining an invisible additional depth of 4-1/2″. The cabinet contains duplex outlets for charging electric toothbrushes and razors and adjustable shelves for the storage of toiletries.
More than Mirrors Woodland Heights 2019
Twin lavatories are symmetrically placed around the tall wall cabinet which is designed for the optimum in functionality and storage. Recessed into the wall cavity it gains additional functional depth. The cabinet contains duplex outlets for charging electric toothbrushes and razors and a series of adjustable shelves for the storage. The under-mount sinks are attached to the underside of the custom fabricated marble countertop.
Soak in the Scene Woodland Heights 2019
A Kohler cast iron soaking tub is embraced by the custom tub platform which is finished with a Shadow Mountain marble tub platform and splashes. Fed by a Mirabelle brushed nickel tub filler complete with personal shower it provides a relaxing spot for the homeowner to end her day. A glass block window from Acme Building Brands IBP division provides both natural light and privacy for this master bathroom.
Luxurious Lair Hudson Meadows 2007
The walls and ceiling of this custom frameless steam shower are covered with Travertine Marble Slabs. Oil rubbed bronze Delta plumbing fixtures provide a choice for the showering experience. A Kohler whirlpool tub with a stimulating array of jets is centered in a custom Knotty Alder tub surround. A double French Vault Ceiling adds a spacious feeling to this master bathroom.
French Country Comfort Hudson Meadows 2007
Knotty Alder cabinets from Jay Rambo Cabinets provide an abundance of storage as well as a luxurious bathroom environment for the wife's vanity area of this master bathroom. Antique wall scones, custom beveled mirrors and a Travertine Marble countertop with a Delta lavatory faucet complete her side of this spacious master bathroom. A heated floor adds a hidden source of comfort.
Suite Escape Hudson Meadows 2019
A six-foot Kohler soaking tub is filled with a Brizo tub filler. The linen cabinet, with mirror inserted in the cabinet door, provides generous storage. A SunTouch electric heating mat is concealed under both the bathroom floor and the shower floor and seat. An opaque frameless shower door provides privacy and direct access to the interior of the master shower.
Spa Retreat Braeswood 2004
This expansive master shower features an exotic granite on the walls and ceiling, two frameless shower doors and a programable Grohe shower tower at one end. The opposite end of the shower features both fixed and personal shower and a built-in granite seat
Classic Carrara Wexford 2014
Carrara subway tiles cover the walls of this custom master shower. Two showering stations feature both fixed and adjustable Kohler shower heads. A heated towel rack provides warm towels that extend the comfort provided by the heated shower floor and shower seat providing a true luxury showering experience.
The Art of Relaxation Wexford 2014
This Bain Ultra air tub is filled with a Kohler floor mounted tub filler. Characterized by its many programable luxury features the user can activate stimulating air jets, Chromo-Therapy lighting and or Vibra Acoustic treatments all while relaxing in the tub. Release your imagination and focus on how you would like to either start or end your day in this master bathroom air tub.
The Elements of Water Wexford 2014
A high-volume Kohler Tub Filler with polished chrome finish and personal shower are used to fill this Bain Ultra air tub. A wall mounted Bain Ultra infrared activated programable controller can be used to activate a broad spectrum of therapeutic experiences while soaking in the luxury of this master bathroom tub.
Storage with Style Wexford 2014
A Brazilian Mahogany cabinet provides storage space in this master bathroom. An exterior door provides direct access to the backyard patio and pool. Master shower walls are covered with Carrara marble subway tile. Walls are enclosed with a frameless glass shower surround and Carrara marble. The absolute black granite countertop supports a Kohler vessel sink in this high-end bathroom.
A Sophisticated Sanctuary Wexford 2014
Brazilian Mahogany (Sapele) cabinets are featured in this master bathroom with both his and her vanities. Etched glass mirrors and custom wall scones add both decorative and functional features to the space. A Kohler surface mounted vessel lavatory provides a clean-up space for the wife in this large master bathroom.
Room for Reflection Millcreek Pond 2012
Euro style Jay Rambo cabinets with a high gloss acrylic finish provide an abundance of storage in this contemporary master bathroom. The husband's vanity is the mirror image of the one shown in this photograph. A heated porcelain tile floor brings warmth to the interior. A black mosaic tile outlines its perimeter.
Classic Contemporary Millcreek Pond 2012
The high gloss acrylic cabinets end at the Acme Building IBP glass block shower enclosure. This large door-less shower is divided into two sections, the wet or bathing section which is complete with Kohler built in body sprays and fixed and personal shower heads. The drying area is curb-less for ease of access. It is outfitted with infrared heaters in the ceiling and a sitting bench with a Blue Pearl granite seat.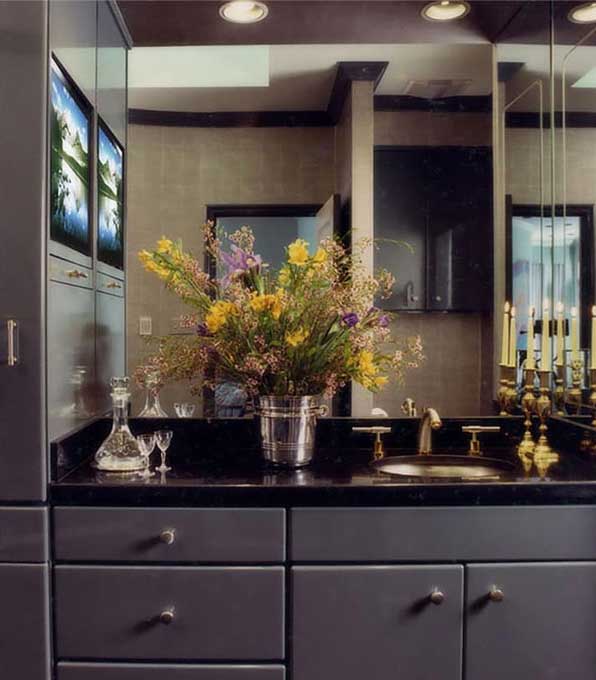 Perfectly Appointed Forest Hills 1989
Ten coats of Dupont automotive lacquer give these contemporary cabinets the durable finish requested for the husband's master bath. Absolute black granite covers the countertop which features contemporary Kohler faucets and a custom fabricated under-mount bowl with a brushed nickel finish. Individual pieces of gold leaf were hand applied on the walls giving the unique overall appearance reflected in the mirror.
Mirror Magic Southern Hills Addition 1995
Absolute black granite was custom fabricated to fit the countertops for these contemporary cabinets. The dressing mirror covers the door that provides access to the stool compartment. Door and window casings were all constructed from 3/4" thick Travertine Marble. Granite square inserts add visual interest to the Travertine Marble floor. Wall mirrors enhance the spacious feeling in this master bathroom.
Chic and Shimmering Fairway Estates 2015
The relaxing swirl of the water is apparent as this Jetta whirlpool is filled by a deck mount Kohler tub filler complete with French Bronze finish. The surface of the whirlpool platform is covered with large format porcelain tile.
Relaxing Retreat Braniff Hills 2015
A custom six panel Natural Alder door conceals the stool compartment. Natural Alder full overlay cabinets from Broken Arrow Woodworks provide storage for toiletries and towels on his side of this master bathroom. Natural Alder Plantation Shutters were custom built for this master bathroom and bedroom by Battle Creek Shutters.
Traditional Tastes Braniff Hills 2015
A Kohler lavatory faucet and under-mount Kohler sink interrupt the continuity of the Natural Alder cabinets and the Natural Alder Plantation Shutters. on the outside wall of this master bathroom.
Bathing Beauty Braniff Hills 2015
A high-volume Kohler Tub Filler with polished chrome finish and personal shower are used to fill this Bain Ultra air tub. A wall mounted Bain Ultra infrared activated programable controller can be used to activate a broad spectrum of therapeutic experiences while soaking in the luxury of this master bathroom tub.
Storage on Display Braniff Hills 2015
Natural Alder full overlay closet armoires show about one tenth of the storage in this master closet. Her vanity features base and tall cabinets that terminate at the shower stall. Simulated Travertine Porcelain tile from Emser covers the shower walls and the electrically heated SunTouch floor. A custom six panel door provides both aesthetic appeal and function as it conceals the stool compartment.
Share your vision with us.
The experts at The Buckingham Group are here to create a home that's as extraordinary as you are.
Any project, any style, any dream, bring your inspiration to The Buckingham Group.
Schedule your personalized complimentary appointment today.
The Buckingham Group  |  4727 S. Memorial Drive  |   Tulsa, OK 74145   |   918-624-2666