Curb Appeal Plus
When you work with a team of seasoned remodeling professionals, the results can be spectacular. This marriage between landscape and structure is living proof. Just a wonderful play of shapes, textures and colors all framed in an impeccable landscape. True professionals always bring their "A" game and this is a pleasing example of just that.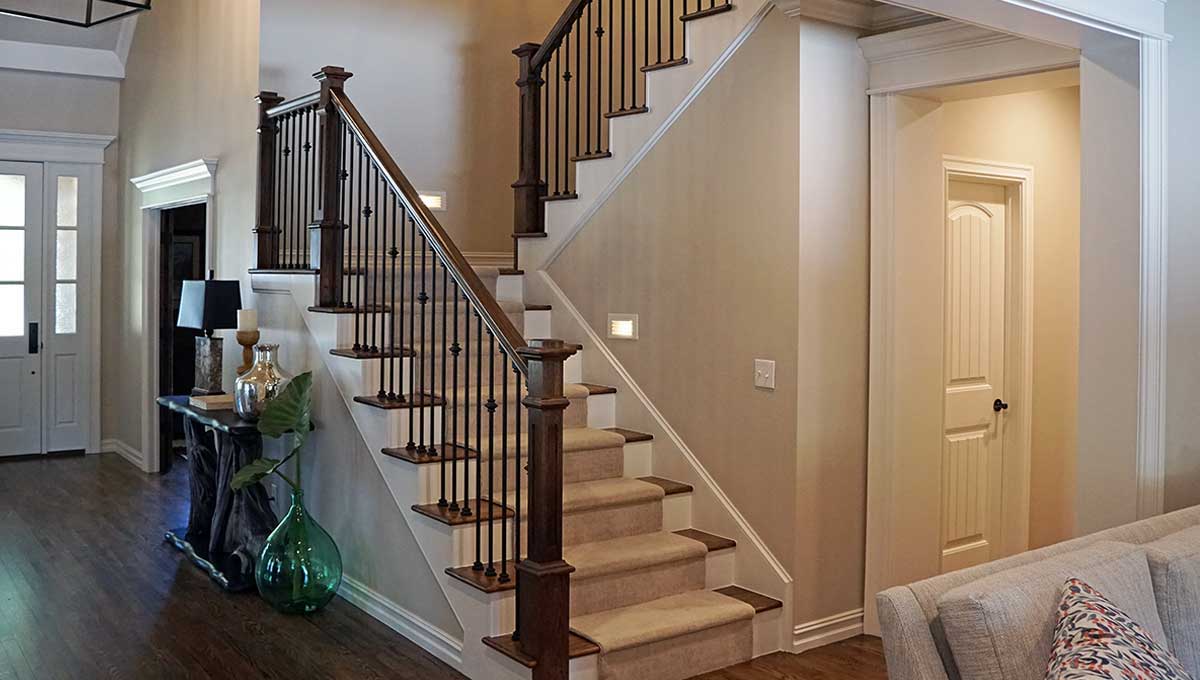 Just Right Staircase 
The beauty is in the details. Dark stained hardwood handrails and posts are supported with elegant black iron balusters. Line of site is open and airy. The presentation is softened with partially carpeted steps and risers which also provide sound reduction and increased safety. Flush mounted LEDs light the way. This substantial staircase is built for years of high usage in high style.
Open Kitchen Design
To the south, we see additional casual dining along with a three-window bank view. To the left, off-screen is the living room and north, off-screen is a grand entrance with adjacent formal dining. This is a great layout with wonderful natural light and cross connection to activities about the home.
Symmetrical Kitchen Wrapped in Convenience
A cook's pleasure, this kitchen has everything needed in all the right places for convenience and concealed storage. A stunning presentation. Neat as a pin. This is a Buckingham Group favorite on so many levels.
Midtown Kitchen Goes First Class 
The continuous Quartzite countertops and backsplash bring this kitchen to life. Subdued bone colored cabinets, Kitchen-Aid appliances and Delta's Trinsic Series faucets make this Tulsa kitchen a winner. We love to design build unique kitchens that work hard and look great doing it.
Focal Point Fireplace
This fireplace is the centerpiece that welcomes all. The beautiful cast stone by Solus Decor makes a statement of permanence, style and elegance. Crisp and clean. Perfectly proportioned to the space. A perfect place to spend time alone or with family and friends.
Master Bathroom in Shades of White Villa Grove Park 2022
Subtle differences in hues help make this master bathroom a standout. Delta faucets with a Champagne Bronze finishes, coordinated cabinet pulls, and two custom mirrors from Grant's Frames of Tulsa create just the right amount of contrast. Warm Taj Mahal Quartzite counters are both beautiful and functional atop the individualized storage. A custom cosmetic bench pulls out over the electrical heated porcelain tile floor. This space was part of an extensive Midtown total home remodel completed in 2022.
High-end Multifunctional Shower 
Separate controls and shower heads handle bathing needs for sitting and/or standing positions. The generous glass-framed space has been, in part, created by the installation of a pocket door which, by design, requires no swing clearance. Large wall tiles with a brushed finish are color coordinated with the mosaic tile floor. They contrast nicely with smaller tiles in the blue toned accent strip. Comfort is provided, even on the coldest days, by the heated shower floor, seat and rear wall. On the left, the black lacquer framed mirror brings visual balance to the setting overall. Grab handles are at the ready. Aging in place. Aging in style.
Integrated Utility Room
We like to give the often under-appreciated laundry room its due with high functionality, plenty of storage and convenience. Seamless integration is achieved with high-end building materials and design standards in line with other areas of the home. An excellent example, this utility/laundry features Quartzite countertops, heated flooring, an Elkay stainless sink and Delta Broderick faucet in Champaign finish.
Dreams Do Come True
We've been at the heart of Tulsa homeowners' upscale outdoor living experiences for many years. And thus, have found ourselves uniquely qualified to serve Tulsans during the recent outdoor living boom. The relationship always starts with a truly shared vision between us and our client. One source of continuous contact, start to finish, is at the core. Experience in the designing and engineering of over-the-top spaces is always key. And importantly, technology and the finest craftsmen get the job completed on schedule and within budget. We are pleased to present this example.
Share your vision with us.
The experts at The Buckingham Group are here to help create a home that's as extraordinary as you are.
Any project, any style, any dream, bring your inspiration to The Buckingham Group.
Schedule your personalized complimentary appointment today.
The Buckingham Group  |  4727 S. Memorial Drive  |   Tulsa, OK 74145   |   918-624-2666