HEART OF THE HOME KITCHENS
Do you dream of creating a beautiful kitchen, with state-of-the-art appliances, custom cabinets, and surfaces showcasing in an impeccably designed space? With a vast array of decisions to make, The Buckingham Group provides the answers through our design build kitchen program. We are with you every step of the way to create a kitchen that will run a little smoother, work a little bit harder and be just a little bit more you.
Ranch-style Kitchen Transformed into Clean and Modern Charlane Estates 2021
As part of a whole home remodel, we brought new life to this mid-century kitchen. Continuous hardwood flooring compliments the subtle shades-of-white motif featuring custom cabinets, backsplashes and quartzite counters. Matching high-end stainless steel appliances fit perfectly into the presentation with just the right proportions and placement. From modest homes to Tulsa's historic mansions, we've been Tulsa's leading remodeling firm for more than 41 years.
Styled for Aging in Place Villa Grove Park 2020
A large lot with mature trees were incentives for this client to purchase a classic 1950s ranch house to retire in. An addition enlarged the master suite while the kitchen, utility and powder rooms were reconfigured for an updated floor plan. Existing hardwood floors were refinished, and new hardwood and tile floors added. Custom Shaker-style cabinets and granite countertops were installed throughout the project.
Storage Everywhere You Look East Tulsa County 2023
A commitment to extensive planning, engineering and design are required to integrate this much storage into a home. It only takes a single bad decision and the look becomes overpowering. Therefore, experience feeds the vision and attention to detail drives the execution. Done right, it's a beautiful thing. An important benefit to this much available storage is avoidance of clutter for a peaceful and easy to maintain daily presentation.
Abundant Granite Surfaces East Tulsa County 2023
Built for the multi-tasking chef. Plenty of space for dishes, utensils, electronics and other tools of the cooking trade. Unmatched durability. One of a kind. Efficient to clean. Simply, a pleasure to own.
It's All About Relationships
This image illustrates the spatial relationships between the meal preparation area, storage for utensils, walk-in pantry storage, the beverage center and dining table with seating for ten.
Detail: Beverage Serving Area
Flanked by wine storage left and glassware right, this super coffee bar is centered between the kitchen and dining areas for easy accessibility.
Detail: Suitable Storage
Customizable drawers offer convenience and a perfect space to display fine flatware and dinnerware sets.
Detail: Beverage Area Uppers
Dark stained satin finished cabinets extend to the ceiling at ten feet. Common to the kitchen cabinets, glass upper doors are softly backlit displaying contents. 
Detail: The Coffee Bar
Granite coutertops wrap this essential high usage area. All things "beverage" are close at hand. 
Expansive, Luxurious and Open
Spacious and fully equiped to prepare and serve a culinary masterpiece or just a snack… and everything in between.
It's All About Relationships
This image illustrates the spatial relationships between the meal preparation area, storage for utensils, walk-in pantry storage, the beverage center and dining table with seating for ten.
Custom All the Way Braeswood 2007
Knotty Alder cabinets provide a functional workspace with African Fantasy granite countertops providing aesthetic appeal. A simulated fireplace mantle hides the exhaust hood which is outfitted with a sound-deadening dampener provided by Fantech of Lenexa, Kansas. Push activated sections on the mantle hide lighting controls and duplex outlets. Cabinets at the end of the kitchen provide his and her hanging space
Now We're Cooking Hudson Meadows 2019
Transitional full overlay Woodstock Cabinets support Dolomite Stone Countertops. GE Monogram appliances provide an array of high-end cooking capabilities. Glass subway tile covers the backsplash. A Lutron lighting control system provides the mechanism for setting different lighting scenes in the kitchen and adjoining areas.
Perfect Pendants Hudson Meadows 2019
A custom-built center island for five creates a functional workspace complete with Brizo Faucet, Kohler stainless steel sink and InSinkErator hot water dispenser. Transitional cabinets by Woodstock Woodworking of Tulsa, Oklahoma provide an abundance of storage in this spacious kitchen.
Cooking In Comfort Hudson Meadows 2019
A GE Monogram six-burner cooktop with griddle is positioned under a custom-built exhaust hood. Glass subway tiles provide a low maintenance back splash. Dolomite countertops provide a wealth of prep space for the cook.
Contrast Created Hudson Meadows 2019
A custom fabricated Dolomite stone countertop demonstrates attention to detail and outstanding craftsmanship. GE Monogram appliances complete this high-end kitchen. Transitional cabinets from Woodstock Woodworking of Tulsa, Oklahoma provide an abundance of storage in this spacious kitchen.
Custom Considerations Hudson Meadows 2019
Convenience is provided by a Kohler under-mount stainless steel sink, Brizo touch activated faucet & soap dispenser and an InSinkErator hot water dispenser. Dolomite countertops provide a wealth of prep space for the cook.
An "Open Architecture" Space for All Braniff Hills 2019
A custom-built Burmese Teak butcher block top by Grothouse Lumber is combined with granite surfaces to create an extraordinary center island and convenient workspace for the cook in this kitchen. A six burner Wolf dual fuel range is surrounded by custom full overlay Natural Alder cabinets. Antique Chicago Brick subway tiles provide a contrasting backsplash. A Buckingham Group favorite, this open kitchen with its unique combination of high-end appliances and custom surfaces is located in the midst an expansive multifunctional gathering space for family and friends. A glass wall of massive Natural Alder framed sliding doors merges the interior and exterior with wide views of the lush grounds and swimming pool. Part of a whole home design remodel, this home is located in an elite Tulsa neighborhood.
Working Together Braniff Hills 2019
The Slate Finished GE Oven, Microwave & French door refrigerator adjacent to the Burmese Teak Butcher Block counter provide both aesthetic appeal and cooking function in this kitchen. Natural alder cabinets provide convenient storage for small appliances and groceries.
The Perfect Finish Braniff Hills 2019
An Elkay under-mount fireclay farm sink is surrounded by a Burmese Teak end grain butcher block countertop by Grothouse Lumber.A 20 ft. Pella sliding patio door provides natural light into the family room and adjoining kitchen.
Open Kitchen Design Villa Grove Park 2022
To the south, we see additional casual dining along with a three-window bank view. To the left, off-screen is the living room and north, off-screen is a grand entrance with adjacent formal dining. This is a great layout with wonderful natural light and cross connection to activities about the home.
Symmetrical Kitchen Wrapped in Convenience Villa Grove Park 2022
A cook's pleasure, this kitchen has everything needed in all the right places for convenience and concealed storage. A stunning presentation. Neat as a pin. This is a Buckingham Group favorite on so many levels.
Midtown Kitchen Goes First Class Villa Grove Park 2022
The continuous Quartzite countertops and backsplash bring this kitchen to life. Subdued bone colored cabinets, Kitchen-Aid appliances and Delta's Trinsic Series faucets make this Tulsa kitchen a winner. We love to design build unique kitchens that work hard and look great doing it.
Elegant and Open Braeswood 2021
This kitchen is centrally located within the floor plan offering "line of sight" to two living areas and two dining areas. The open configuration is perfect for entertaining larger groups or preparing and serving meals for the family.
Functionality and Style Braeswood 2021
A well planned workspace, this kitchen was designed with careful attention to lighting requirements and is further enhanced by subtle overhead lighting effects. Additionally, the flowing wallpaper contrasts perfectly with the hard geometric shapes to complete the scene.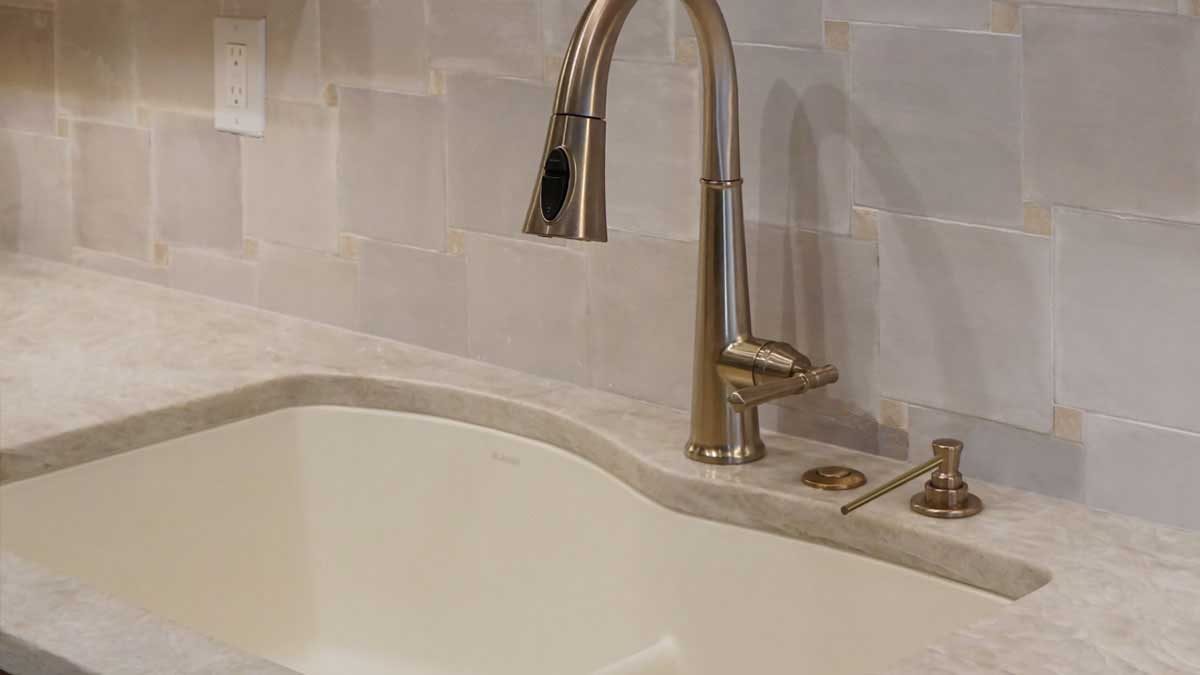 Details make the Difference Braeswood – 2021
The unique countertops and backsplashes were built with the finest materials for a lifetime of easy cleanups, outstanding durability and timeless style.
Sunlit Setting Braeswood 2021
On the east wall, the large bank of windows offers an abundance of sunlight along with a terrific view of the landscape. Balance, proportion, colors and textures all combine to make this a pleasant space for both family and friends.
Angled Elegance Florence Park Addition 2018
The uniquely shaped center island is the key design element in this new floor plan. An abundance of standard overlay cabinets doubled the storage for this kitchen.
Cramped to Cozy Florence Park Addition 2018
Cramped became cozy in this simple but elegant kitchen for two. Antique brick subway tile covers the backsplash. Re-arrangement of floor space doubled cabinet storage.
Defined by Detail Signal Hill 2017
Jay Rambo full overlay transitional style cabinets surround the custom tile backsplash. Contrast with the tile & cabinets is provided by the brushed soapstone counter tops.
Wonderful Walnut Signal Hill 2017
A custom Knotty Walnut barn door fabricated by Jay Rambo Cabinets covers the opening to the pantry. Recessed Knotty Walnut shelving provides visual interest.
Classical Glass Ranch Acres 2017
A display cabinet with a dimmer controlled LED lighting system provides space for the display of this client's unusual collection of kitchen plates and serving pieces.
Colorful Accents Ranch Acres 2017
Catalyzed lacquer finished cabinets add storage & enhanced display capacity. Quartzite countertops and a subway tile backsplash provide elegant, low maintenance surfaces. A down-draft JennAir dual-fuel range satisfies all the appliance needs for the homeowner's hobby of baking specialty deserts.
Wonderful in White Ranch Acres 2017
Custom Plantation shutters are centered over a Kohler Fire Clay farm sink. A virtually indestructible surface is provided by a 3cm Quartzite countertop. Porcelain subway tiles, a touch-less Delta kitchen faucet, and an InSinkErator hot water dispenser provide cooking convenience for the owners.
Kitchen Furniture Wexford Estates 2016
Walnut cabinets with inset transitional doors provide a striking contrast to the Alaska White granite countertops. Kitchen smoke & smells are controlled by a custom vent from Ventair with both polished and brushed stainless steel finishes
A Chef's Delight Harter's Second Subdivision 2008
This kitchen features Knotty Alder cabinets with inset doors, a tumbled Travertine Marble backsplash, a Five Star gas range and custom hood with Venetian Plaster finish.
The Cook's Kitchen Heatwave Supply Showroom 2012
This cooking center features an Elyse Edwards Glass tile backsplash, full overlay walnut cabinets by Jay Rambo and a large center island with under-mount Kohler stainless sink.
The Working Triangle Heatwave Supply Showroom 2012
Strategic placement of the cooktop, sink and refrigerator create the perfect working triangle. Jay Rambo Walnut Euro-style cabinets provide storage.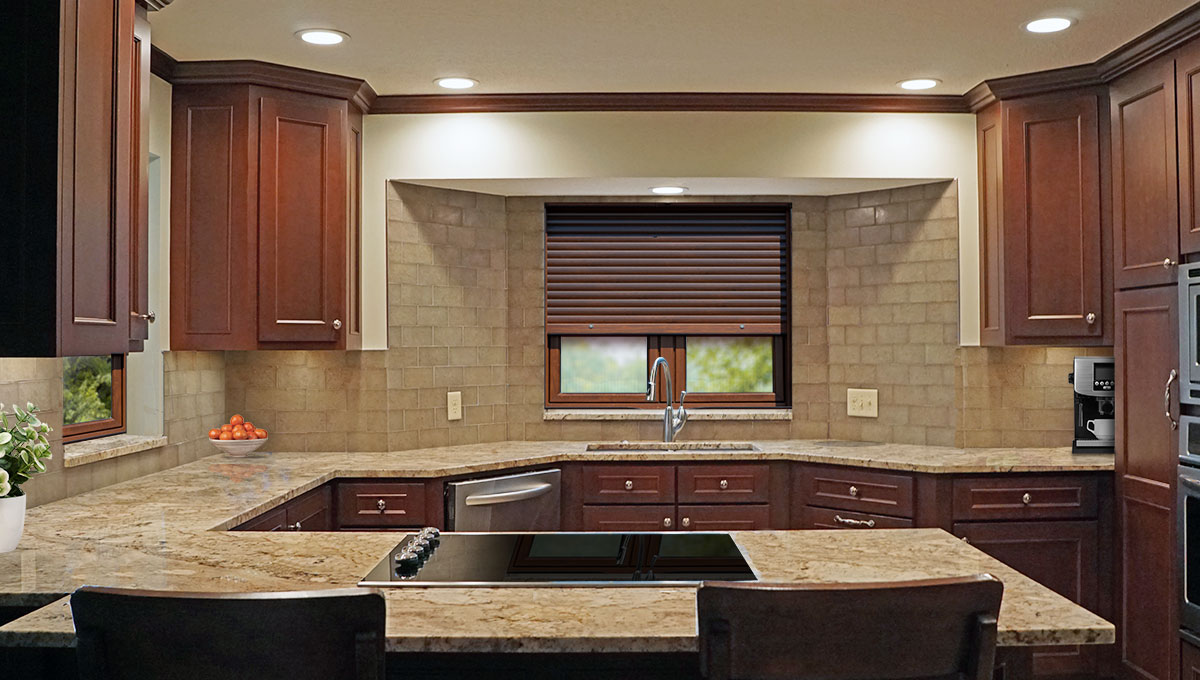 Kitchen Counter Surround South Tulsa 2023
Abundant counterspace in this South Tulsa kitchen keeps the home chef happy and productive.
Island Living Hudson Meadows 2005
Twin Knotty Alder Islands provide a unique design solution to spatial requirements in this kitchen. Wolf & Subzero appliances & Kohler plumbing fixtures provide needed function.
Clean and Uncluttered Oakwold Addition 2011
Brazilian Mahogany Euro Style cabinets, twin Bosch dishwashers, a Wolf dual fuel range & hood & abundant countertop surfaces create the perfect kitchen for entertaining.
Preferred Seating Wexford 2014
A five-foot cooking center, manufactured by Galley Sink of Tulsa, Oklahoma is centered in an Alaska White Granite countertop. The countertop is serviced by two Delta faucets providing the heartbeat of this unique prep and serving center. A 48" Thermador dual-fuel range and hood with stainless steel finishes add to the convenience of cooking in this totally remodeled kitchen.
Falling Water Wexford 2014
Twin Delta touch activated faucets cascade water into a five-foot under-mount stainless steel Galley Sink and prep center. The backsplash features Kyoto Tile imported from Japan.
More than Stainless Steel Wexford 2014
A Thermador exhaust hood & range, complete with steam oven are focal points in this kitchen. They are enhanced by the Kyoto glazed porcelain subway tile
Aged to Perfection Sunset Terrace 2006
This 1928 breakfast room was updated with Walnut cabinets outfitted with a combination of raised panel & Rain Glass door inserts, providing function and architectural interest. The construction of the inset cabinet doors was based on the original drawings that were created for this home.
Past Meets Present Travis Heights 2012
A 400-year-old cast iron "Fire Back" is centered in the Carrara Marble subway tile back-splash. A brushed Absolute Black granite countertop surrounds the Five Star dual-fuel range. A Fantech exhaust system, complete with muffler, minimizes the typical annoying sound of an exhaust system as it removes smoke and smells from a kitchen.
Stainless Steel Appeal Patrick Henry 2002
Storage is provided by natural finished Ash full overlay raised panel cabinets by Jay Rambo Cabinets of Tulsa, Oklahoma. An island mounted Zephyr stainless steel exhaust hood is strategically located over the cooking surface to capture smoke and smells that are created by cooking.
Dinner for Two South Tulsa 1986
Custom laminate covered cabinets with black ebony accents and a curved glass display cabinet with hand carved fish creates a one-of-a-kind kitchen that was part of a multi-room remodel.
Warm & Inviting Southern Oaks Estates II 2012
Walnut perimeter cabinets & center island by Jay Rambo Cabinets of Tulsa, Oklahoma provides storage & added prep space. The backsplash features handmade subway tiles with a custom center medallion.
Share your vision with us.
The experts at The Buckingham Group are here to create a home that's as extraordinary as you are.
Any project, any style, any dream, bring your inspiration to The Buckingham Group.
Schedule your personalized complimentary appointment today.
The Buckingham Group  |  4727 S. Memorial Drive  |   Tulsa, OK 74145   |   918-624-2666