Night Lights
Sitting on a 5-acre lot this A-Frame home was converted from its rustic appearance into a contemporary show place. A brushed stainless-steel staircase with polished brass handrail leads guests from the living room to the solid black ebony bar above.
Larger than Life
A new zero-clearance fireplace was installed at the end of this spacious living room. For the sake of simplicity, large Travertine marble slabs were installed to cover the new fireplace chaise. Bookcases with mirror covered backs and ½" thick plate glass shelves were added to provide depth and dimension to the room. A custom fireplace screen, fireplace tool holder, and tools were fabricated specifically for this project by Ernie Wiemann Metalcraft of Tulsa, Oklahoma.
Dinner for Two
Custom laminate covered cabinets with black ebony accents and a curved glass display cabinet with hand carved fish creates a one-of-a-kind kitchen that was part of a multi-room remodel.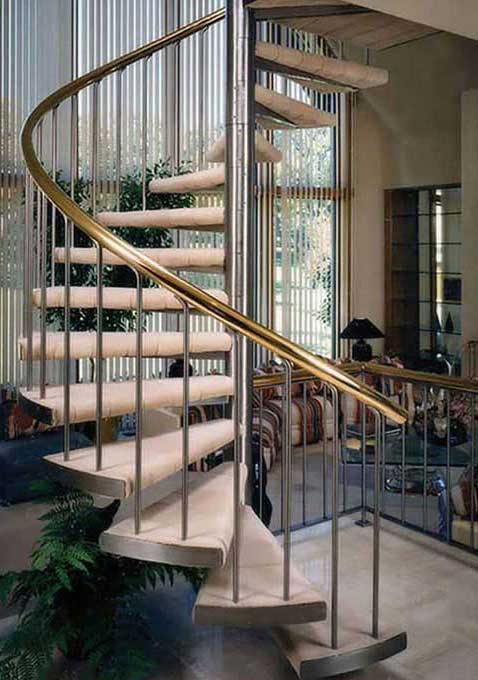 Metallic Accents 
A custom stainless-steel and brass circular stairway takes the homeowner and his guests from the dining room to the black ebony wet bar on the balcony above. Brass and stainless steel were chosen for the stairway's construction by The Buckingham Group because they were symbolic of the owners' financial success in the sale of precision brass and stainless-steel valve assemblies.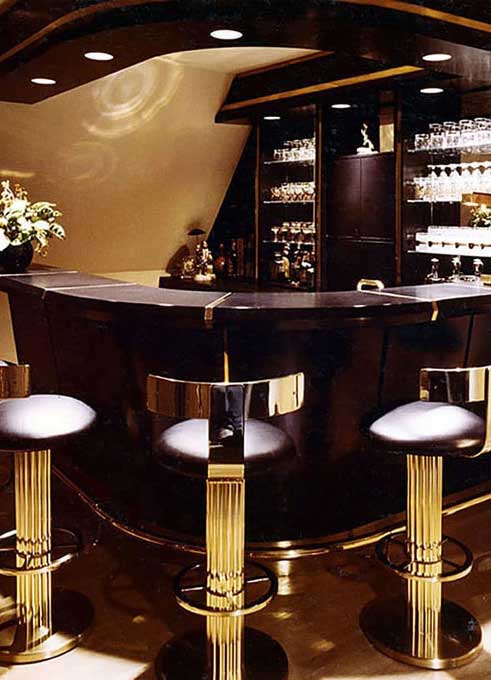 Bar Talk
This custom bar was fabricated from a combination of solid black ebony with inlaid brass accents. A wine refrigerator, elaborate liquor storage, and a spacious serving counter coupled with a hidden flat screen TV provide the environment for the owner to entertain his guests. The view from the bar through a 20' wall of windows follows the winding driveway from the home to the street.
Share your vision with us.
The experts at The Buckingham Group are here to create a home that's as extraordinary as you are.
Any project, any style, any dream, bring your inspiration to The Buckingham Group.
Schedule your personalized complimentary appointment today.
The Buckingham Group  |  4727 S. Memorial Drive  |   Tulsa, OK 74145   |   918-624-2666