HISTORIC RESTORATION AND RENOVATION
Exterior Historic Restoration
The front porch was completely rebuilt in accordance with the original specifications. Each piece of dental molding was hand cut. The stamped decorative steel support columns were removed, sand blasted, and powder coated.
Bring in the Light
A cast-stone fireplace by Tulsa Castings replaced the original red brick fireplace surround. Moldings were milled to meet the specifications of the original drawings for this 1928 Maple Ridge home. Pella casement windows bring light into the basement through the reconstructed window wells. A Travertine tile floor completed the restoration of this 1500-sf basement remodel.
Storage Solutions
To accommodate an extensive collection of books a custom bookcase complete with led strip lighting was installed in the remodeled basement. A home entertainment center was added to the center of the bookcase assembly. The soffit above the bookcase cleverly conceals the revamped heating and air conditioning ducts that service this room. New Pella Architectural Series casement windows filter natural light into the basement through the restored window wells.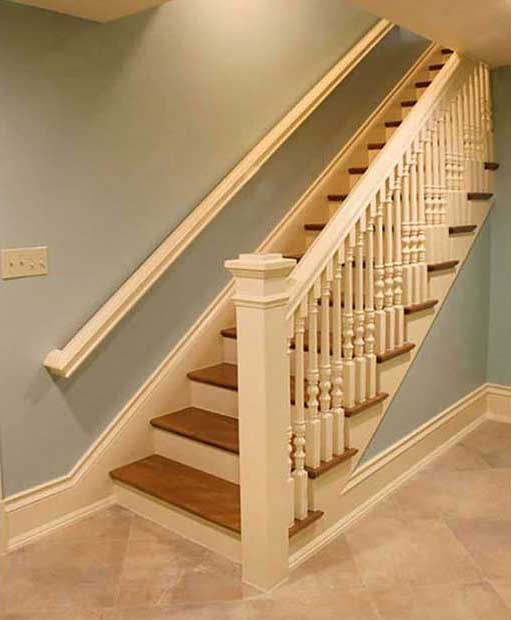 Habitually Historic
As an integral part of the restoration of a 1500-sf basement in a 1928 Maple Ridge historic home we completely rebuilt the stairway. The entire railing system along with stairway risers and treads were removed. Damaged balusters were accurately reproduced using original drawings for the home. New oak treads and pine risers were added to complete the restoration.
Coffee and Conversation
This 1928 breakfast room was updated with Walnut cabinets outfitted with a combination of raised panel & Rain Glass door inserts, providing function and architectural interest.
Authentic in Every Way 
While reviewing the original drawings for this home we found that Adah Robinson a renowned Tulsa-based designer and teacher was responsible for this unique fireplace design. We carefully restored some of the crumbling brick and complimented the fireplace with two original oil paintings that are highlighted by led recessed ceiling fixtures. Custom baseboards, crown and picture moldings were installed so that they complied in detail and dimensions to the original drawings.
Share your vision with us.
The experts at The Buckingham Group are here to create a home that's as extraordinary as you are.
Any project, any style, any dream, bring your inspiration to The Buckingham Group.
Schedule your personalized complimentary appointment today.
The Buckingham Group  |  4727 S. Memorial Drive  |   Tulsa, OK 74145   |   918-624-2666