"OPEN PLAN" HOME TRANSFORMATION
TaIlored to Fit 
The kitchen was opened to the family room by removing a load bearing wall. An abundance of seating space was created with Alaska White granite overhangs on two sides of the kitchen cabinets. A strong focal point was created by renovating the fireplace with a Cross Cut Travertine face. New hardwood floors now run throughout the first level, unitizing the family room, kitchen, and adjoining library.
Custom Crafted
City style and modern lines come together with timeless quality and wood craftsmanship in this custom entry door by Rogue Valley Doors of Granite Pass, Oregon.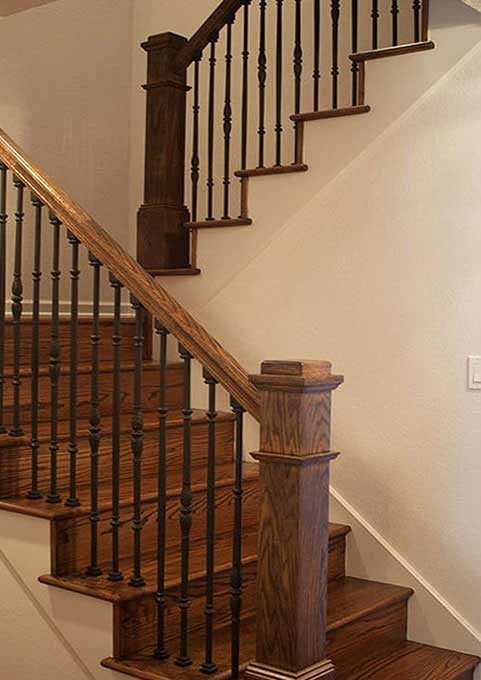 Step Aside
Stairway railings serve more than a functional purpose in this whole house Tulsa Remodel. New oak railings, treads and risers and ornamental iron balusters replaced carpeting and wood balusters to create a visual presence for this first to second level stairway.
Kitchen Furniture Wexford Estates
Walnut cabinets with inset transitional doors provide a striking contrast to the Alaska White granite countertops. Kitchen smoke & smells are controlled by a custom vent from Ventair with both polished and brushed stainless steel finishes.
Classic Subway
Large brick subway tiles cover the backsplash behind the Thermador induction cooktop. A custom stainless-steel Vent-A-Hood exhaust hood with contrasting polished and brushed stainless steel surfaces along with the custom walnut cabinets surround the backsplash with an array of color, texture, and functional features.
Storage Solutions: What's Behind Door #1?
Walnut transitional inset doors provide a furniture-like appearance to the cabinets of this total kitchen remodel. Concealed behind the full height door is an elaborate pull-out cabinet organizer that allows the homeowner to optimize the use of a blind corner.
Storage Solutions: The Magic Corner
Keeping your Tulsa kitchen organized is easy with a kitchen remodel from The Buckingham Group. If you think your kitchen is maxed out on storage space, ideas such as this innovative cabinet organizer will end your blind corner dilemma. Designed to maximize the storage capacity of your cabinets this unit is functional and practical and operates smoothly with pull and slide technologies that allow access to every inch of the blind corner.
Storage Solutions: What's Behind this Narrow Pull-out? 
An inset transitional Walnut door and brushed stainless steel hardware conceal a pull-out Rev-A-Shelf base organizer. This is a typical representation of how The Buckingham Group optimizes available storage space in a kitchen.
Storage Solutions: The Base Organizer
A three tier Rev-A-Shelf base organizer was designed into this Tulsa kitchen design build remodel. Conveniently located to right of the pot and pan drawers beneath the cooktop, it provides immediate access to the cooking oils needed by our client. All the tools required to create a culinary master piece are readily available in this cooking station that uses LeCreuset Cookware whose temperature is precisely controlled by a Thermador Induction Cooktop.
Bold & Beautiful
The ceiling was raised to ten feet with a double French Vault taking advantage of available attic space above. Pella Architectural fixed clear view windows were added for additional light. An oak hardwood floor and custom furniture completed the transformation.
The Perfect Arrangement
The existing fireplace surround was removed and furred out to give added dimension to the fireplace surround. It was then covered with a Cross Cut Travertine Tile from Visions Tile & Stone. 
The Finishing Touches
Fed up with this non-functional room, our clients employed the design build expertise of The Buckingham Group to create a library that converts quickly into a luxurious home office. This striking Tulsa design build space features exquisite walnut cabinets with inset doors. In its library format, the space displays memorabilia, and a collection of photos from their world travels. The transition to an office is simple, as the office equipment is hidden behind pocket doors and pull-out trays in the bottom cabinets.
Storage Solutions: The Charging Station 
This Tulsa remodel uses a hidden charging station to power todays connected lifestyle with an innovative solution for charging the Owners mobile devices. Creatively incorporating one of the Docking Drawer Company's products into the home office allows the mobile phone and iPad to be hidden away during the time they are being charged in this design build whole house remodel.
Storage Solutions: Pocket Doors Conceal…
The homeowner charged The Buckingham Group with the design challenge of creating a multi-functional space that could be transformed from a Library into a Home Office. Transitional inset Walnut cabinet doors can be opened and recessed to provide access to the cabinet shelving and space behind.
Storage Solutions: A Full-Sized Computer
Opening the transitional inset Walnut pocket doors provides access to a 27-inch Apple iMac desktop computer. This is one of the many features that allows a beautiful personal Library to be converted into a total functional Home Office in less than 1-minute.
Storage Solutions: What's Behind the Double Doors?
Double inset Walnut transitional doors conceal pullout shelves that provide a platform for a large format Scanner and Photo Printer.
Storage Solutions: A Large Format Photo Printer
The Canon Photo Printer pulls out easily from the base cabinets on full extension soft close drawer guides as the owner changes a classic personal Library into a fully functional Home Office.
Share your vision with us.
The experts at The Buckingham Group are here to help create a home that's as extraordinary as you are.
Any project, any style, any dream, bring your inspiration to The Buckingham Group.
Schedule your personalized complimentary appointment today.
The Buckingham Group  |  4727 S. Memorial Drive  |   Tulsa, OK 74145   |   918-624-2666