THE PLACE FOR FUN & GAMES
If video games and their consoles are constantly underfoot or cleverly concealed under the couch cushions it may be time to start planning your game room decor. If ping pong, shuffle board or pool are your thing, your game room is going to look entirely different from one that features pinball machines or carnival games. In the same vein, a predominantly video game focused room or board game centered space will take on a different appearance. Knowing how you will realistically use the room, is the key for The Buckingham Group's success in designing a space that will function well for your entire family,
South Side Shuffle Hudson Meadows 2017
A shuffleboard playing surface sits in front of the stairway to a guest bedroom on the second level. A full bath, kitchenette and living room complete the guest quarters which were added as an integral part of the game room addition.
Stand By for Music Hudson Meadows 2017
A restored Wurlitzer Jukebox provides music to this 600 sq. ft. game room addition. Pella Architectural Windows and Doors coupled with a geothermal HVAC system creates the perfect temperature control for both video games, billiards, and shuffleboard.
Call Your Shot Hudson Meadows 2017
A custom-built billiards table provides one of the many sources of entertainment in this 600 sq. ft. game room addition. A 6-inch white oak floor with walnut pegs complements the knotty alder trim and beamed ceiling and allows for easy clean up.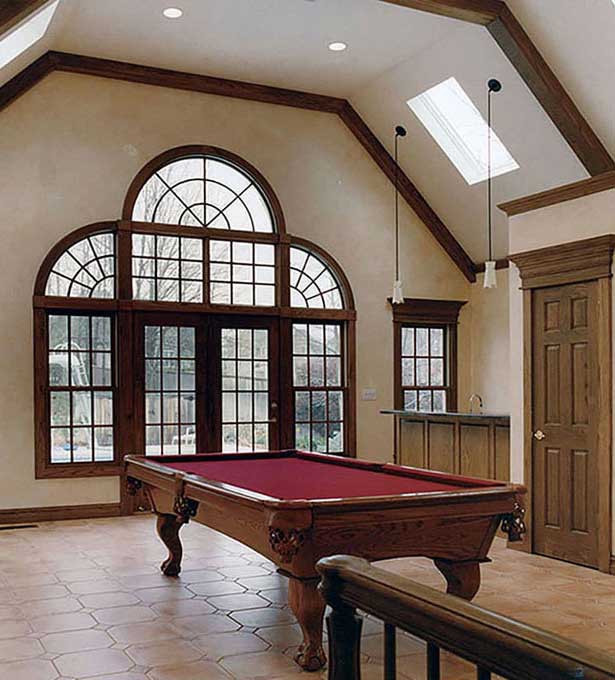 The Billiards Room Estates of Graystone 2000
This user-friendly living space bridges the gap between the existing home and in-ground pool. The addition includes a wet bar, a sauna, steam shower, separate bath and changing room. A tile floor was installed to minimize the inherent problems of wet bathing suits dripping on walking surfaces. The open feeling for the room was created with a cathedral ceiling that included six Velux skylights in the roof line and a set of six windows on the west side.
Share your vision with us.
The experts at The Buckingham Group are here to create a home that's as extraordinary as you are.
Any project, any style, any dream, bring your inspiration to The Buckingham Group.
Schedule your personalized complimentary appointment today.
The Buckingham Group  |  4727 S. Memorial Drive  |   Tulsa, OK 74145   |   918-624-2666