These large spaces can be outfitted with an assortment of problem solving features to create smart walk-in closet storage. Capitalizing on commercially available closet accessories and effective space planning, we can transform a walk-in closet, within reason, to have a spot for everything. Let our creative closet design team evaluate your walk-in closet's size and layout to determine what strategies and ideas will be best suited for your space and what you need to store.
Fit for Fine Clothing Graystone 2012
This custom master closet was constructed from solid walnut and walnut veneers by Woodstock Cabinets of Tulsa, Oklahoma. Designed to accommodate the homeowner's extensive collection of clothing it utilizes every inch of space and the 9-ft ceiling height to provide the necessary storage and accessibility.
The Pant Organizer Graystone 2012
If you've ever tired of searching through an entire array of hangers filled with trousers, The Buckingham Group has the perfect solution for you. This exceptional closet solution is made of heavy gauge chrome and features distinctive movable fingers for easy access and unparalleled convenience.
The Closet Armoire Graystone 2012
A dust free storage solution is provided by these walnut cabinets. Complete with clear glass inserts they provide both visibility and convenience within this extensive master closet. Drawers on full extension guides add storage for undergarment and socks.
Closet for Two Hudson Meadows 2019
A custom closet solution for an existing space uncovers the hidden potential for storage. Optimizing ever corner of your walk-in closet will allow your personal needs to be satisfied. Built-in his and her armoires, double and single hanging space, and customized shelving for storage of shoes transformed this space into a luxury closet for our clients
The Long and Short Hudson Meadows 2019
A sophisticated functional armoire coupled with specialized racks and clever accessories provides much needed function to this master closet. As we customize a design for you, we consider the available space, your style, and budget.
Enhanced Utility Sunset Terrace 2011

When this home was built in 1928, the master closet consisted of two shallow depth spaces that accommodated one row of shoe storage with a clothes rod above. Between two closets there was a large unused dressing area that called out for better use. We removed the existing closets and repurposed the space into a spacious master closet.
Hang Time Forest Hills 1989
With a poly-chrome finish on the walls and rich carpet details, fashion meets function for this extensive closet that we designed like a personal boutique. Every drawer was labeled internally with engraved brass name plates for ease of identification and the maximum in convenience. The large cabinet to the right provides storage for over 100 pairs of shoes. Adjoining the same is a pull-out cabinet for pocketbooks and another for belts.
The Wardrobe Wall Fairway Estates 2015
The existing master suite resembled a jig saw puzzle. It consisted of three remotely located closets. The Buckingham Group repurposed these spaces into one large master closet. High-gloss white paint provided finishing touches to the transitional door style of the closet. Each of the cabinets shown are equipped with pull-out shelving to optimize their contents
Care for Neckwear Fairway Estates 2015
If you want to add the "Wow" factor to your closet or provide ease of access to your tie collection, then look no further than this pull-out tie rack from Rev-A-Shelf.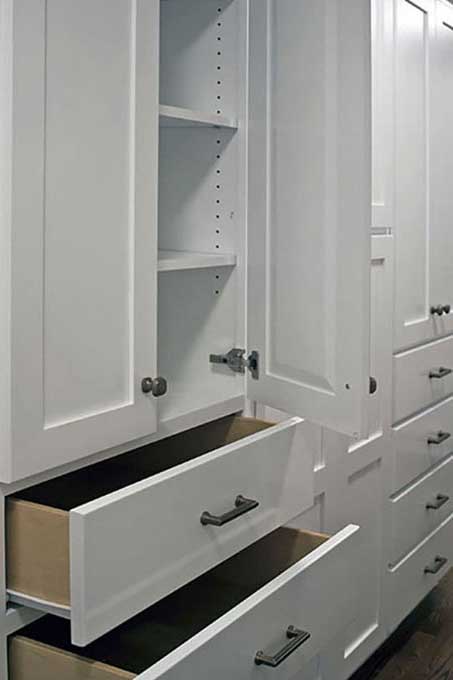 Nice White Storage Fairway Estates 2015
Designed like a custom cabinet these his and her wardrobes add essential storage to this master closet.
Shelf Help Braniff Hills 2015
Located near the Southern Hills Country Club this home had been built in the mid 50's for a prominent Tulsa family. New custom cabinets were designed and produced for the master closet totally embracing the needs of the client with an abundance of storage and much needed functionality. Knotty Alder cabinets by Woodstock Cabinets of Tulsa, Oklahoma provide the appearance of a high-end boutique.
Wooden Tie Butler Braniff Hills 2015
If you're looking for a solid wood tie organizer, this Rev-A-Shelf pull-out assembly is for you. This configuration is available in different finishes, materials, and sizes. Simply select the organizer that best suits the style of your closet.
Built for Two Braniff Hills 2015
Polished chrome double hanging rods provide contrast to the Knotty Alder cabinets. An extensive installation of adjustable shelving provides much needed storage for folded garments and shoes.
High Slider Braniff Hills 2015
Want to review all your ties in one quick glance than this pull-out Rev-A-Shelf tie rack is for you. It beautifully organizes all your ties with a simple functional design featuring 42 tie holders.
Storage on Display Braniff Hills 2015
His and her Knotty Alder traditional square panel full overlay doors and drawer fronts cover the front of these custom closet armoires by Woodstock Cabinets of Tulsa, Oklahoma. The view from the closet looks out onto his and her vanities, granite countertops, a frameless shower door, and Travertine tile provide both beauty and function in this master bathroom suite.
Share your vision with us.
The experts at The Buckingham Group are here to create a home that's as extraordinary as you are.
Any project, any style, any dream, bring your inspiration to The Buckingham Group.
Schedule your personalized complimentary appointment today.
The Buckingham Group  |  4727 S. Memorial Drive  |   Tulsa, OK 74145   |   918-624-2666