HOME INTERIOR RE-IMAGINED AND EXPANED
Here's to Your Health
This attic space was converted into a well-equipped exercise room that contains state of the art equipment. Surround sound complete with a wall mounted flat screen TV enhances the exercise experience. The double doored closet was installed to house the relocated gas hot water heater and furnace. Storage space was built into every available location during the design and construction of this attic space conversion.
Fit for Fine Clothing
This custom master closet was constructed from solid walnut and walnut veneers by Woodstock Cabinets of Tulsa, Oklahoma. Designed to accommodate the homeowner's extensive collection of clothing it utilizes every inch of space and the 9-ft ceiling height to provide the necessary storage and accessibility.
The Pant Organizer
If you've ever tired of searching through an entire array of hangers filled with trousers, The Buckingham Group has the perfect solution for you. This exceptional closet solution is made of heavy gauge chrome and features distinctive movable fingers for easy access and unparalleled convenience.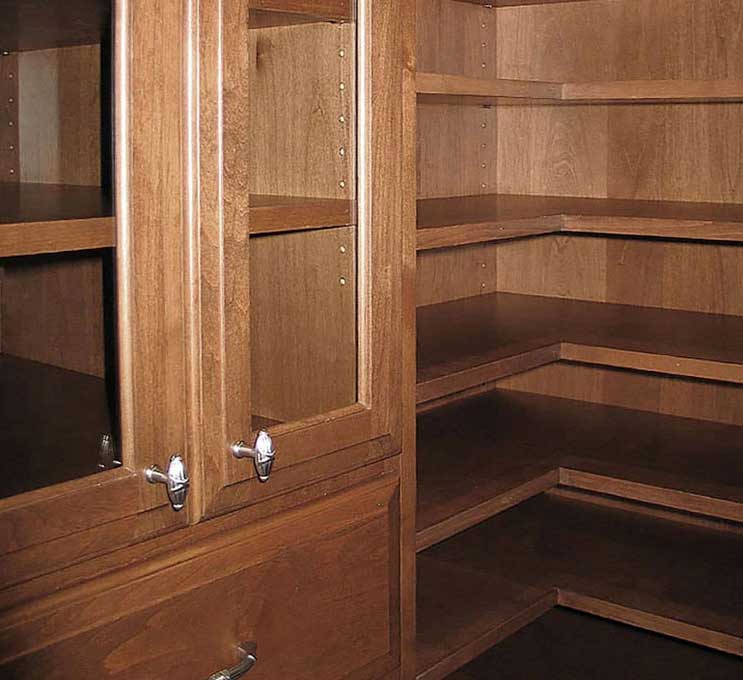 The Closet Armoire 
A dust free storage solution is provided by these walnut cabinets. Complete with clear glass inserts they provide both visibility and convenience within this extensive master closet. Drawers on full extension guides add storage for undergarment and socks.
Best Seats in the House
Custom tiered seating with theater step lights accenting the way to the elevated platform are some of the features that make this attic space conversion a special entertainment environment. A Lutron Radio RA home automation system triggers a sequence of events leading to "show time" at the touch of one button. All lighting and operational controls in the media room are integrated into a whole house smart system.
Just Right for Red and White
A wet bar complete with wine refrigerator allows the owner to serve guests in his media room from an extensive wine collection. Granite countertops and a faux finish on the wall complement the overall feeling in this former storage space. A Lutron Radio RA home automation system controls the entire room with the touch of one button.
Share your vision with us.
The experts at The Buckingham Group are here to help create a home that's as extraordinary as you are.
Any project, any style, any dream, bring your inspiration to The Buckingham Group.
Schedule your personalized complimentary appointment today.
The Buckingham Group  |  4727 S. Memorial Drive  |   Tulsa, OK 74145   |   918-624-2666