55+ Design Makes Good Sense for Any Age Group
A homeowner can "age in place" in this user-friendly kitchen. The perimeter of the large center island is surrounded by 42" – 48" wide aisles providing ease of access for current and future needs in the event that wheel-chair access is required.
by Ed Kaplan 
At The Buckingham Group, we respect tradition. We tend to think that good design is ageless, and that building homes to nurture, sustain and delight residents of all ages is a calling. It's a concept that we believe should drive all architecture and interior design.
Demographics tell us that the population is shifting — The "graying of America" is expected to increase the number of Americans who are at least 65 from 13% in 2010 to around 20% by mid-century. With the population estimated to be at least 400 million by then, that's a lot of senior citizens. Even though the population is skewing older, older Americans today are typically active and healthy longer today than ever before. Older citizens continue to work, often well into their 70s, and most hope to remain in their own familiar homes as long as possible. Even the popularity of Over 55 communities in sunbelt states has not prompted mass migration. It's true in many ways that 50 is the new 40, and that age — any age — is only a number.
A walk-in door-less shower, located behind the glass block wall is divided into two sections that are designed for wheelchair access. The wet section is complete with bench seat, built-in body sprays, grab bars, and both fixed and personal shower heads. The drying area is outfitted with a bench and infrared heaters in the ceiling to create a user-friendly place to dry off after a shower and/or to transfer from a wheelchair to the shower.
However, age ushers in some physical concerns — mobility and vision issues top the list. Even modern medicine doesn't have the power to reverse the body's natural aging processes. Not yet. We can't stop the passage of time. And why would we want to? Every age has its advantages and rewards. However, we can and should adapt our homes in ways that make life easier for older residents, safer for the very young, and more comfortable for all ages in between.
To offset an individual's limited mobility a stainless-steel sink, touch-activated faucet and hot water dispenser are conveniently grouped together. The lever handle on the faucet will allow an individual with arthritis to easily set water temperature while the touch-activated faucet provides added convenience for someone with limited dexterity.
The passage of the Americans with Disabilities Act (ADA) with its stringent guidelines for public access, set in motion a whole sub-culture of inherently logical approaches to architectural design. Universal design grew out of that legislation, and it was revolutionary in some ways at the time. The focus is threefold: Safety, convenience and comfort. Assisted by modern technology, there is little reason that shouldn't be the goal of all new construction and renovation projects.
The growing trend toward multi-generational living makes it imperative. Older couples move in with children. Grown children return to "the nest." Circumstances often weigh heavily in the direction of family consolidation, for both economic and emotional support. That transition places new emphasis on the need for compliance with universal design and aging-in-place guidelines. They introduce workable solutions that are as pertinent for families with babies and toddlers, and for homes currently inhabited by octogenarians. Compliance not only makes good sense but is likely to add value to property and represent a financial return on investment.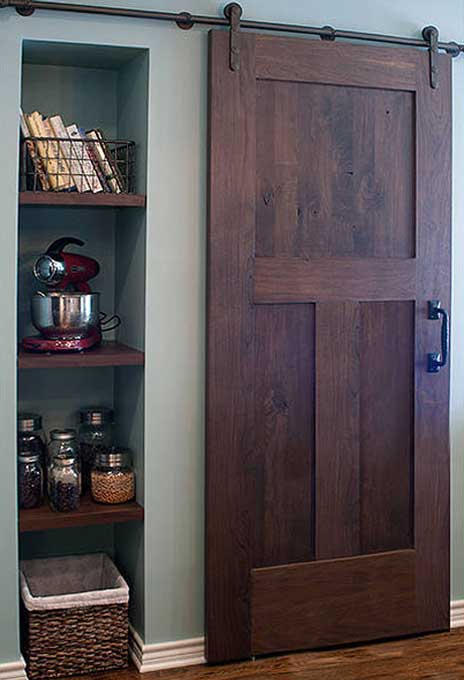 A "Knotty Walnut" barn door provides both present and future ease of access to the walk-in pantry. In the event that the homeowner becomes wheelchair bound, a 32" opening behind the door complies with ADA requirements for wheelchair access.
7 Basic Principles of Universal Design
Universal design involves a process and a way of thinking rather than product selection for a particular age group or physical condition. It targets a broad spectrum of ideals.
Basic principles include:
1. Equitable Use: Available and appealing for all users, with provision for safety, security and privacy;
2. Flexibility in Use: Adaptable to a wide range of preferences and abilities;
3. Simple and Intuitive Use: Minimizing the need for language competency or specialized skills;
4. Perceptible Information: Use of different modes to facilitate use and operation — tactile, verbal, pictorial;
5. Tolerance for Error: Addressing hazards and adverse consequences that result from accidental misuse;
6. Low Physical Effort: Minimizing sustained physical effort and fatigue caused by use or operation;
7. Size and Space for Approach and Use: Allowing for access and use regardless of body size, mass or physical ability.
These principles were developed in 1997 by a design team at North Carolina State University, and they are still deemed to be the bible for designers and contractors specializing in Over 55 design.
A pot filler is positioned over the six-burner range providing convenience for a homeowner with limited strength. When a pot filler is installed, the need to haul heavy water filled pots to the cooktop is eliminated.
It can almost be termed "cradle to grave" design, and it's not only universally applicable, but totally achievable. Our founder, Ed Kaplan, is a Certified Aging in Place Specialist (CAPS), and The Buckingham Group works closely with clients to ensure that every completed project continues to serve Tulsa area homeowners long into the future. That's the kind of universal benefit we can wholeheartedly embrace. Contact us to schedule a conversation if you'd like to know more about 55+ design.
Share your vision with us.
The experts at The Buckingham Group are here to help create a home that's as extraordinary as you are.
Any project, any style, any dream, bring your inspiration to The Buckingham Group.
Schedule your personalized complimentary appointment today.
The Buckingham Group  |  4727 S. Memorial Drive  |   Tulsa, OK 74145   |   918-624-2666