EXTERIOR AND INTERIOR RENOVATION
Architectural Charm
The owners requested that their home be built with the appearance and architectural detail found in Tulsa's Midtown. In addition, they wanted a contemporary floor plan that would allow them to entertain guests. The completed design/ build project accomplishes all the above with architectural detail not found on other homes in this neighborhood.
Beveled Glass Beauty 
Architectural accuracy is created on both the front and rear porches by using HB&G PermaCast columns. The custom entry door has leaded and beveled glass inserts that were created to provide a combination of both privacy and beauty to the entry hall.
A Grand Entry
The entry foyer of this home includes twelve-foot ceilings that are accented by stacked crown moldings and LED lighting. A custom entry door has leaded and beveled glass inserts that were created to provide a combination of both privacy and beauty to the entry hall. Oak hardwood floors extend throughout the home creating not only a beautiful walking surface but an allergy free environment as well.
Sense of Fulfillment
An open floor plan allows guests to intermingle at social events. A cast stone fireplace with an original oil painting above serves as a focal point in the great room. The beauty of the paintings in both rooms is brought to life using framing projector lights that are hidden in the ceiling. The stacked moldings that are visible in this photo are carried throughout the center of the home.
Everything Nice
Traditional full overlay cherry cabinets from Cardel, Thermador Appliances, a multifunctional island with Kohler Vegetable sink make this kitchen a chef dream workplace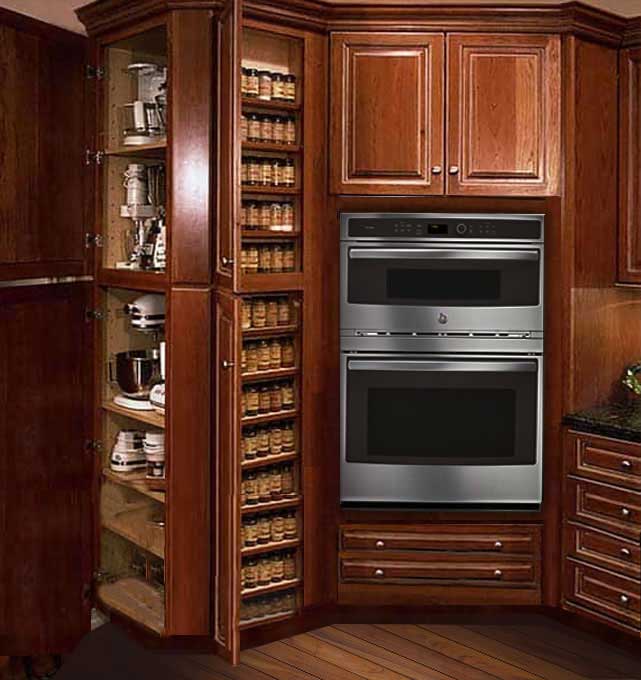 Specialized Spaces
Designed for the cooking convenience of the Owners, special cabinets are strategically placed and designed for small appliances, pots and pans, cooking oils, condiments, and spices. This kitchen is truly a place where everything has a place, and everything is in place even providing capacity for over 120 individual spice bottles.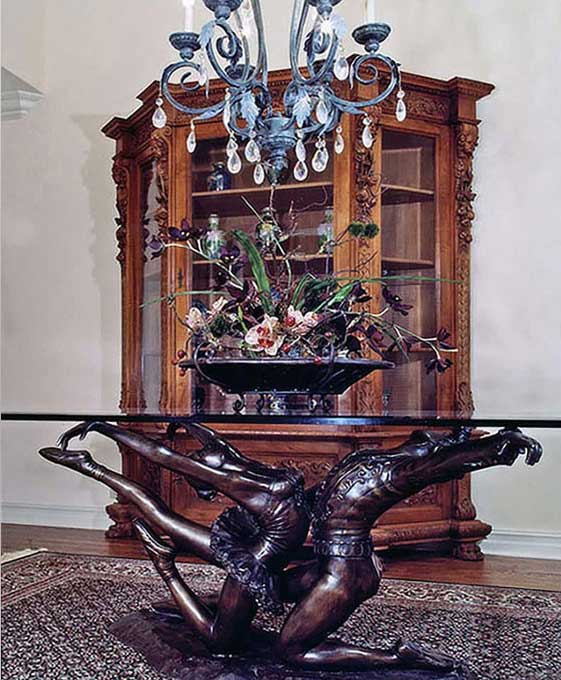 Ballerinas in Bronze
A cast-bronze table base with ¾ life-size ballet dancers supports a tempered glass tabletop. Anchoring this space is a hand-carved Italian walnut circa 1800 cabinet made in Milan, Italy in 1825. Gourmet meals are served by the owners to their guests in these unique surroundings.
Finely Tuned
A self-contained entertainment center feeds surround sound in both the entertainment room and throughout the house. This system is integrated with a Lutron Radio RA lighting control that allows the owner to set scenes depending on the activity that is to take place in the home.
Share your vision with us.
The experts at The Buckingham Group are here to help create a home that's as extraordinary as you are.
Any project, any style, any dream, bring your inspiration to The Buckingham Group.
Schedule your personalized complimentary appointment today.
The Buckingham Group  |  4727 S. Memorial Drive  |   Tulsa, OK 74145   |   918-624-2666