From elaborate mantels to attention getting surrounds, fireplaces create a natural focal point for any room.  There are almost as many design styles available as your mind can imagine. As a result, finding the fireplace that suits your decorating taste can often be a challenge. Browse our collection of fireplace ideas to see what your home is best suited for.
Focal Point Fireplace Villa Grove Park 2022
This fireplace is the centerpiece that welcomes all. The beautiful cast stone by Solus Decor makes a statement of permanence, style and elegance. Crisp and clean. Perfectly proportioned to the space. A perfect place to spend time alone or with family and friends.
Warm and Inviting Woodland Heights 2017
A new custom mantle by Vintage Mantle Company of Tulsa, Oklahoma coupled with a split slate tile fireplace surround from Emser Tile covers the original red brick fireplace. Resting on a color coordinated hearth and riser it has converted the fireplace from a boring feature to a focal point in the living room.
Measured Elegance Woodland Heights 2017
A custom fireplace mantle by Vintage Mantle Company of Tulsa, Oklahoma adds architectural interest to this fireplace conversion. Coupled with a split slate tile fireplace surround from Emser Tile it has converted the fireplace from a boring feature to a focal point in the living room.
Room with a View Hudson Meadows 2005
The ceiling of the family room was raised to ten feet. A double French Vault ceiling was created and outlined by Knotty Alder decorative beams. A cast stone fireplace from Stone Legends of Dallas Texas created a fireplace focal point.
Heat in the Master Suite Hudson Meadows 2007
A cast stone fireplace, custom fabricated by Stone Legends of Dallas Texas, transformed the fireplace from ugly to beautiful. A double French vault ceiling took advantage of attic space above the room. Oak hardwood floors replaced the carpet. Custom drapes from Leslie Elliot Interiors complement the traditional club chairs in this revitalized master bedroom.
The Elegance of Cast Stone Hudson Meadows 2006
Eighteen-foot ceilings in this spacious living room called out for a major focal point. A new Isokern fireplace constructed of volcanic rock was installed. The custom cast stone mantle & over mantle cover the Isokern components. Complete with intricate details the carvings inevitably lead one's eyes upward to the knotty alder ceiling. A custom carpet covers the center of the traditional oak floor.
Bold and Beautiful Hudson Meadows 2006
New windows and doors were installed along with new LED lighting. An overall view of the finished great room is enhanced by the light filtering through the new bank of Pella windows and doors on the west side of the home. The 16-ft tall cast stone fireplace was added to provide a major focal point. A custom chandelier hangs from the Knotty Alder ceiling, while decorative knotty Alder Lock Miter Beams separate the ceiling into three distinct sections.
Laid-Back & Posh Wexford Estates 2016
The existing fireplace surround was removed and furred out to give added dimension to the fireplace surround. It was then covered with a Cross Cut Travertine Tile from Visions Tile & Stone. The ceiling was raised to ten feet with a double French Vault taking advantage of available attic space above. Pella Architectural fixed clear view windows were added for additional light. An oak hardwood floor and custom furniture completed the transformation.
Clean White Fireplace Villa Grove Park 2020
The original red brick fireplace was demolished and removed. Massively disproportionate to the space, the old fireplace protruded into the room commanding attention for all the wrong reasons. Faux marble vinyl was replaced with warm continuous hardwood flooring. And today, a black & white granite surround, with matching hearth, is flanked by fluted pilasters and topped off with a custom mantle. To homeowners' delight, the setting is crisp, clean and elegant.
Sense of Fulfillment The Crescent 2000
An open floor plan allows guests to intermingle at social events. A cast stone fireplace with an original oil painting above serves as a focal point in the great room. The beauty of the paintings in both rooms is brought to life using framing projector lights that are hidden in the ceiling. The stacked moldings that are visible in this photo are carried throughout the center of the home.
Larger than Life South Tulsa 1985
A new zero-clearance fireplace was installed at the end of this spacious living room. For the sake of simplicity, large Travertine marble slabs were installed to cover the new fireplace chaise. Bookcases with mirror covered backs and ½" thick plate glass shelves were added to provide depth and dimension to the room. A custom fireplace screen, fireplace tool holder, and tools were fabricated specifically for this project by Ernie Wiemann Metalcraft of Tulsa, Oklahoma.
Authentic in Every Way Sunset Terrace 2009
While reviewing the original drawings for this home we found that Adah Robinson a renowned Tulsa-based designer and teacher was responsible for this unique fireplace design. We carefully restored some of the crumbling brick and complimented the fireplace with two original oil paintings that are highlighted by led recessed ceiling fixtures. Custom baseboards, crown and picture moldings were installed so that they complied in detail and dimensions to the original drawings.
Commanding Attention Sunset Terrace 2009
A cast-stone fireplace by Tulsa Castings replaced the original red brick fireplace surround. Moldings were milled to meet the specifications of the original drawings for this 1928 Maple Ridge home. Pella casement windows bring light into the basement through the reconstructed window wells. A Travertine tile floor completed the restoration of this 1500-sf basement remodel.
Soap Stone Sensation Signal Hill 2017
A custom walnut mantle by Jay Rambo Cabinets of Tulsa, Oklahoma compliments the black soap stone fireplace surround and hearth. This installation coordinates with the adjoining kitchen and was installed by Midwest Marble of Tulsa, Oklahoma.
Secluded Spaces Hudson Meadows 2017
A beautiful cast-stone fireplace mantle from Stone Legends of Dallas, Texas anchors one end of this elaborate outdoor patio. A true masonry fireplace provides warmth for the owner and his guests for fireside chats on cool nights.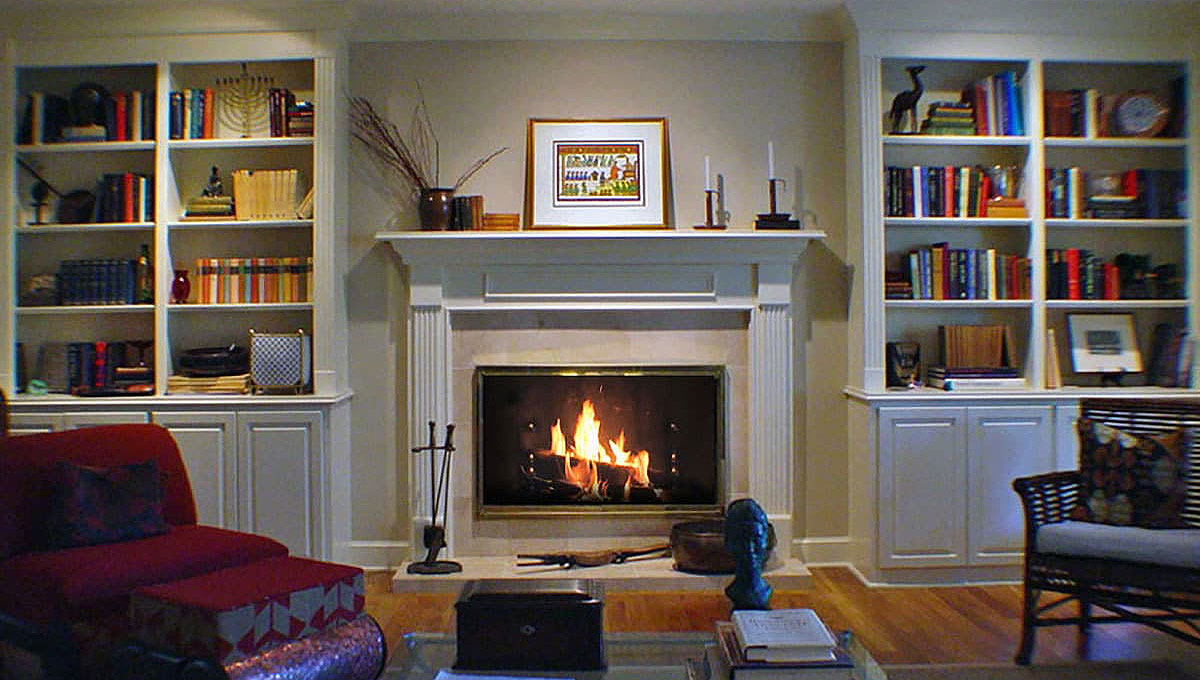 Tranquility Beckons Rockwood Hills Manor 2001
A new fireplace insert and mantle with a travertine marble surround were added to the living room wall. Twin bookcases provide space for the storage of the homeowners' collection of rare books. Base cabinets provide storage for their grandchildren's toys. This combination not only provides function but has taken a wall from boring to beautiful creating a much-needed focal point for this room.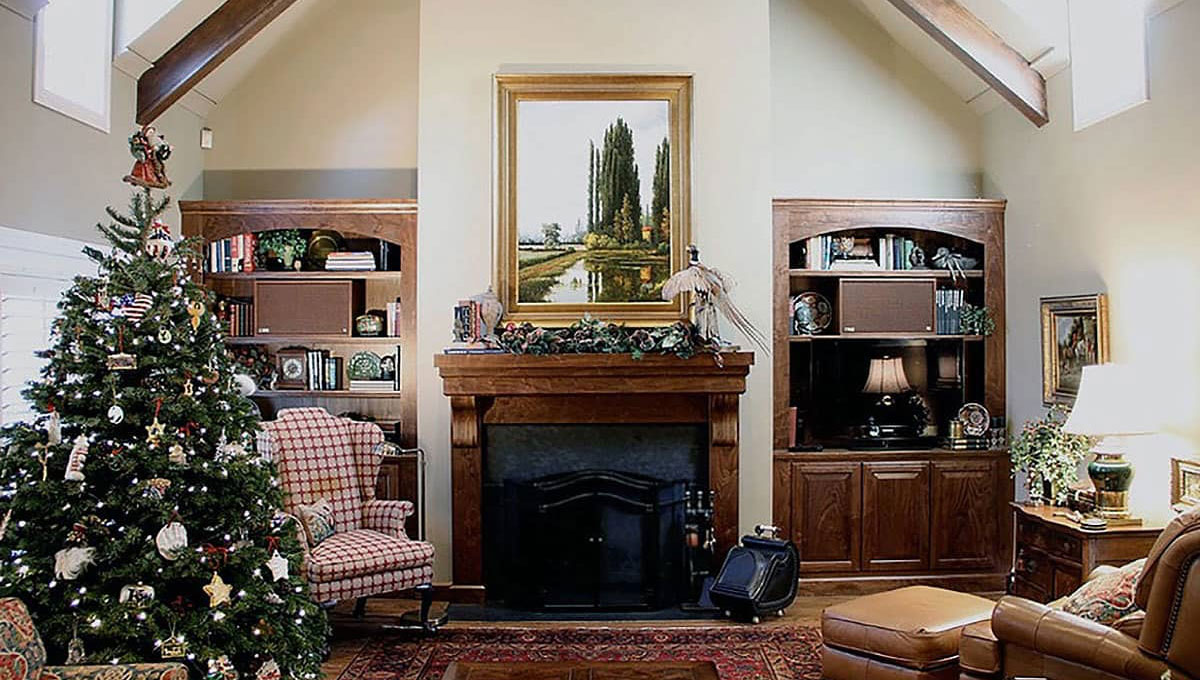 Home for the Holidays Wexford Estates 2012
A custom walnut fireplace mantle by Vintage Mantle Company of Tulsa, Oklahoma and adjoining walnut bookcases by Woodstock Woodworking of Tulsa, Oklahoma is featured at the end of this living room. This combination replaced a massive red brick fireplace that dominated the space providing a closed-in feeling in the living room.
Stunning in Slate Saddleback 2019
Pella Designer Series casement windows, outfitted with interior mini blinds, were installed for comfort and convenience. A cast concrete fireplace mantle and surround with a linen finish, manufactured by Solus Fireplaces embraces a Napoleon HD35 fireplace insert. Complete with a remote-controlled flame it provides a romantic setting in the room. A ten-foot-tall wall of split slate from Emser Tile & Stone adds both beauty and visual interest.
Share your vision with us.
The experts at The Buckingham Group are here to create a home that's as extraordinary as you are.
Any project, any style, any dream, bring your inspiration to The Buckingham Group.
Schedule your personalized complimentary appointment today.
The Buckingham Group  |  4727 S. Memorial Drive  |   Tulsa, OK 74145   |   918-624-2666